With the new year usually comes new or renewed interest in investing and personal finance. Let's explore why you should be looking into automating your investing.
Disclosure:  Some of the links on this page are referral links. At no additional cost to you, if you choose to make a purchase or sign up for a service after clicking through those links, I may receive a small commission. This allows me to continue producing high-quality, ad-free content on this site and pays for the occasional cup of coffee. I have first-hand experience with every product or service I recommend, and I recommend them because I genuinely believe they are useful, not because of the commission I get if you decide to purchase through my links. Read more here.
The Benefits of Automated Investing
Any successful investor knows to invest early and often. That means regular deposits into an investment account. Thankfully, this usually happens automatically with a 401(k) with your employer, with contributions coming out of each paycheck. Outside of that, though, in an IRA or a taxable brokerage account, regularly investing usually requires manual deposits and buy orders.
Psychologically, there are a few key benefits to automated investing. When your pre-tax contributions to your 401(k) come out of your paycheck, you're not able to spend that money. It becomes a known, regular deduction from your paycheck that you quickly get used to, at which point that contribution is somewhat forgotten about. This is a good thing.
The income effect is the economic concept that an individual's spending will increase as their purchasing power increases. That is, on average, people tend to spend more as they earn more. The change in income obviously usually comes in the form of a pay increase. The income effect means regular, manual investing requires discipline. After seeing that higher paycheck, people are more likely to spend that money on extra consumer goods than invest it. This is because you're able to see that money in your bank account and it's able to be spent, and people generally focus more on the present than on the future. Investing that extra money requires the discipline to consciously, purposefully transfer it from your bank account to your investment account.
The solution is having that money be invested "invisibly" behind the scenes so that you can't spend it, at regular intervals. That's where automated investing. technology comes in. Basically, we're taking the logistics of your 401k contributions and applying them to your other investment accounts like an IRA, HSA, or taxable brokerage account.
Specifically, it helps to think about regular deposits into an investment account almost like a bill you have to pay to your future self. Psychologically, this makes it easier to sacrifice that current income. We're talking about setting up an automatic transfer of cash from your bank account to your investment account, and then automatic buy orders to invest that money, all without you having to do anything manually. Budget and plan ahead for how much you can contribute regularly – maybe after each paycheck – so that you can still cover necessary expenses without having to sell your investments.
Automated investing also prevents market timing, the act of trying to predict the stock market's movement and buy (or sell) accordingly. Traders try to use technical indicators and economic sentiment to invest or withdraw at the right times in an attempt to boost total return. Unfortunately, this is much easier said than done, and for long-term buy-and-hold investors, trying to time the market is almost always more harmful than helpful. That is, consciously trying to buy low and sell high usually results in buying high and selling low, because consistent successful market timing is nearly impossible. Automatic investing on a regular schedule takes the guesswork and dissonance out of the process.
Now let's look at how exactly you can set up automated investing.
How To Set Up Automated Investing
As mentioned earlier, most brokers require a manual transfer from a bank account to an investment account, and then manual buy orders to invest that money in your chosen securities. This requires time, effort, and most importantly, discipline.
M1 Finance is a modern broker that was built specifically for automated long-term buy-and-hold investing. With M1, you can schedule regular automatic transfers from your bank, after which your selected investments are automatically bought, all behind the scenes without you having to do anything. For example, you could choose to automatically transfer $100 every 2 weeks from your bank account to your M1 Invest account.
The broker even features automatic rebalancing of your portfolio, directing new deposits to your underweight positions to maintain your desired asset allocation. As an added bonus, M1 is completely free to use and has no account fees or transaction fees. I wrote a comprehensive review of M1 Finance here.
The automated investing features described above are completely free to use with M1, but they also offer a premium account option called M1 Plus that gets you access to even more advanced, granular automation called Smart Transfers. I wrote an overview of the Smart Transfers feature here. Essentially, you can string together chains of automated transfers between M1 accounts based on specified dollar amount thresholds rather than on a calendar schedule. Here's an example:
You want to keep $1,000 in your checking account, so you set any amount over $1,000 in your M1 Spend account (M1's checking account offering) to automatically be invested.

You choose to set the invested amount to be split 50/50 between your Roth IRA and your taxable brokerage account.

Once the IRA hits the contribution limit, 100% of the invested amount will be directed to the taxable account.
M1 Finance currently has an account transfer promotion to earn up to $15,000 as outlined below:
M1 also currently has a promotion for up to $500 when initially funding an investment account: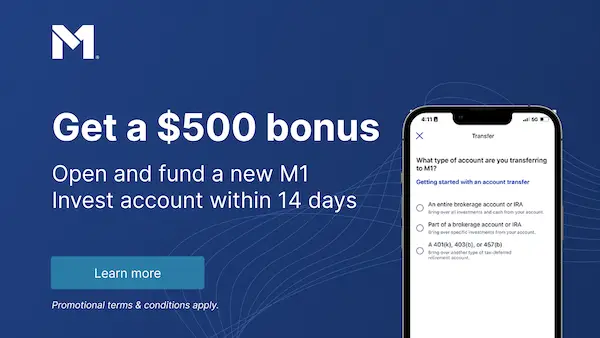 Conclusion
Automated investing is an extremely powerful tool for long-term, buy-and-hold investors. It allows you to mitigate or altogether avoid the negative repercussions of things like the income effect and market timing. It also obviates the need for discipline to consciously, manually invest with post-tax money.
M1 Finance is a perfect choice of broker for automated investing, as the entire platform was designed around it. The broker has zero fees and zero trade commissions, and has dedicated features like fractional shares and dynamic rebalancing, among other things.
---
Disclaimer:  While I love diving into investing-related data and playing around with backtests, this is not financial advice, investing advice, or tax advice. The information on this website is for informational, educational, and entertainment purposes only. Investment products discussed (ETFs, mutual funds, etc.) are for illustrative purposes only. It is not a recommendation to buy, sell, or otherwise transact in any of the products mentioned. I always attempt to ensure the accuracy of information presented but that accuracy cannot be guaranteed. Do your own due diligence. I mention M1 Finance a lot around here. M1 does not provide investment advice, and this is not an offer or solicitation of an offer, or advice to buy or sell any security, and you are encouraged to consult your personal investment, legal, and tax advisors. All examples above are hypothetical, do not reflect any specific investments, are for informational purposes only, and should not be considered an offer to buy or sell any products. All investing involves risk, including the risk of losing the money you invest. Past performance does not guarantee future results. Opinions are my own and do not represent those of other parties mentioned. Read my lengthier disclaimer here.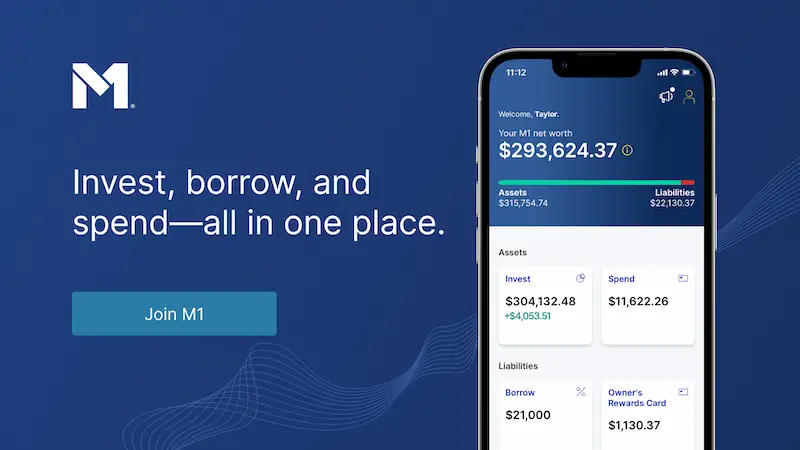 Are you nearing or in retirement? Use my link here to get a free holistic financial plan from fiduciary advisors at Retirable to manage your savings, spend smarter, and navigate key decisions.
Don't want to do all this investing stuff yourself or feel overwhelmed? Check out my flat-fee-only fiduciary friends over at Advisor.com.