Here we're discussing the Rick Ferri Core 4 Portfolio, looking at its components, historical performance, and the best ETF's to use for it.
Interested in more Lazy Portfolios? See the full list here.
Disclosure:  Some of the links on this page are referral links. At no additional cost to you, if you choose to make a purchase or sign up for a service after clicking through those links, I may receive a small commission. This allows me to continue producing high-quality, ad-free content on this site and pays for the occasional cup of coffee. I have first-hand experience with every product or service I recommend, and I recommend them because I genuinely believe they are useful, not because of the commission I get if you decide to purchase through my links. Read more here.
Video
Prefer video? Watch it here:
What Is the Rick Ferri Core 4 Portfolio?
As the name suggests, the Core 4 Portfolio was created by financial adviser and author Rick Ferri in 2007. To be clear, he has created several "Core-4" portfolios. Here we're talking about the "Classic" one. Even within the "Classic" Core 4 Portfolio, Ferri proposes 4 different risk tolerances: low-risk, conservative, moderate, and aggressive, each with a different asset allocation. For the sake of simplicity in this post, I'll be using the "Moderate" risk tolerance allocation which is 60/40 stocks/bonds.
Rick Ferri is a retired US Marine Corps officer and fighter pilot and former stockbroker. He is now an investing consultant and author. Ferri believes in "decoupling" advice from portfolio management, and supports low-fee index investing. Read more about him here. You can get the second edition of his most popular book All About Asset Allocation here on Amazon.
The "Moderate" allocation of the Classic Core 4 Portfolio looks like this:
36% Total US Stock Market
6% US REITs
18% Total International Stock Market
40% Total US Bond Market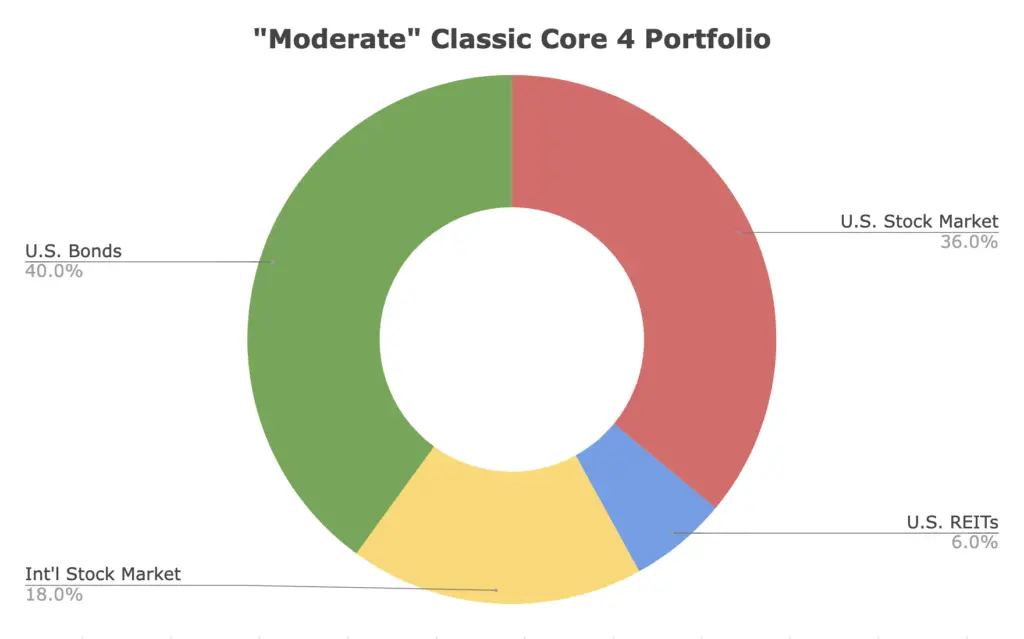 Rick Ferri Core 4 Portfolio – Performance Backtest
Going back to 1996, here's a comparison of the Core 4, a traditional 60/40, and the S&P 500 through 2021: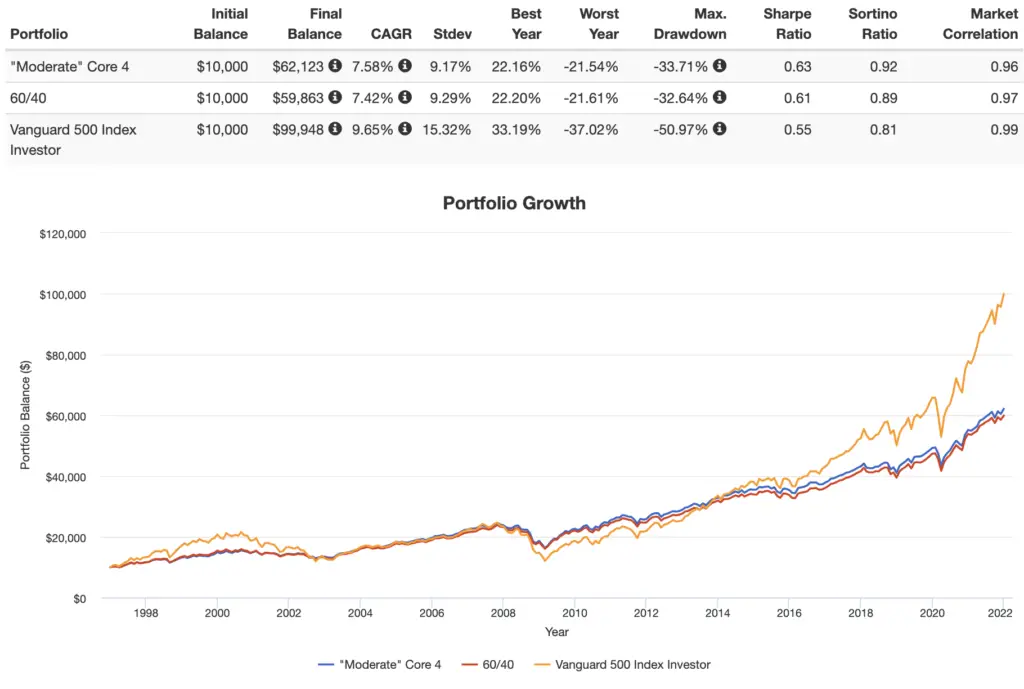 Notice how the addition of REITs increased the return of the Core 4 compared to its 60/40 benchmark, thereby allowing it to have higher general and risk-adjusted returns, with slightly lower volatility but also a slightly larger max drawdown. This drawdown was larger because it was from the 2008 Global Financial Crisis.
Also notice how the volatility and drawdowns of the Core 4 and 60/40 are lower than the S&P 500 by about 1/3.
Rick Ferri Core 4 Portfolio ETF Pie for M1 Finance
M1 Finance is a great choice of broker to implement the Rick Ferri Core 4 Portfolio because it makes regular rebalancing seamless and easy with one click, has zero transaction fees, and incorporates dynamic rebalancing for new deposits. I wrote a comprehensive review of M1 Finance here.
Using entirely low-cost Vanguard funds, we can construct the Core 4 Portfolio pie with the following ETF's:
VTI – 36%
VNQ – 6%
VXUS – 18%
BND – 40%
You can add the Core 4 Portfolio pie to your portfolio on M1 Finance by clicking this link and then clicking "Add to Portfolio."
Canadians can find the above ETFs on Questrade or Interactive Brokers. Investors outside North America can use eToro or possibly Interactive Brokers.
Don't want to do all this investing stuff yourself or feel overwhelmed? Check out my flat-fee-only fiduciary friends over at Advisor.com.
---
Disclosures: I am long VTI and VXUS in my own portfolio.
Interested in more Lazy Portfolios? See the full list here.
Disclaimer:  While I love diving into investing-related data and playing around with backtests, this is not financial advice, investing advice, or tax advice. The information on this website is for informational, educational, and entertainment purposes only. Investment products discussed (ETFs, mutual funds, etc.) are for illustrative purposes only. It is not a recommendation to buy, sell, or otherwise transact in any of the products mentioned. I always attempt to ensure the accuracy of information presented but that accuracy cannot be guaranteed. Do your own due diligence. All investing involves risk, including the risk of losing the money you invest. Past performance does not guarantee future results. Opinions are my own and do not represent those of other parties mentioned. Read my lengthier disclaimer here.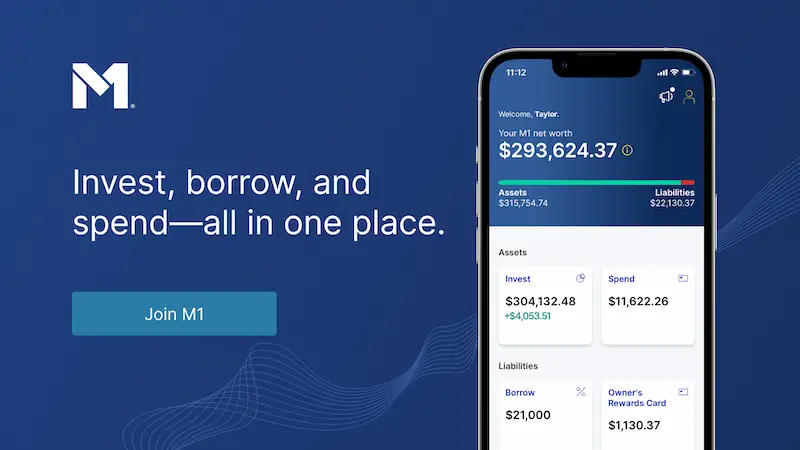 Don't want to do all this investing stuff yourself or feel overwhelmed? Check out my flat-fee-only fiduciary friends over at Advisor.com.