Pfizer is one of the leading healthcare companies in the United States. Below are the steps for how to invest in Pfizer stock with as little as $100.
Disclosure:  Some of the links on this page are referral links. At no additional cost to you, if you choose to make a purchase or sign up for a service after clicking through those links, I may receive a small commission. This allows me to continue producing high-quality, ad-free content on this site and pays for the occasional cup of coffee. I have first-hand experience with every product or service I recommend, and I recommend them because I genuinely believe they are useful, not because of the commission I get if you decide to purchase through my links. Read more here.
Introduction – Why Invest in Pfizer?
Pfizer is a leading healthcare company in the United States, primarily involved in pharmaceuticals. Pfizer has made headlines recently because its recent COVID-19 vaccine candidate is claimed to be over 90% effective, and the FDA has stated they will approve a drug with as little as 50% efficacy if it is safe. This is exciting news; this number far exceeds efficacy expectations put forth by the scientific community for a viable first-round vaccine.
Pfizer's collaboration with the small German biotech company BioNTech may indeed have a huge positive impact globally, but its effect on these companies' stock prices is less clear. In any case, it sets the stage for a more research-focused Pfizer under a new CEO who even refused to accept federal funding for COVID-19 vaccine development in order to avoid getting involved with politics.
While a windfall from this news and the drug's later utilization – and even FDA approval – is debatable and largely unknown, Pfizer's status as a cornerstone of the healthcare market is already well-established, and it's important to note that Pfizer's financial future does not hinge on a single vaccine. By 2025, Pfizer plans to have approval for several medications for diabetes, gene therapy, and cancer treatment. The company was founded in 1849, and is responsible for household names like Chantix, Lipitor, Lyrica, Advil, Robitussin, Viagra, Chapstick, and more. Pfizer is one of the largest holdings in any market-cap-weighted healthcare sector fund.
Update – November 16, 2020: Pfizer announced a "U.S. COVID-19 Immunization Pilot Program with four states, to help refine the plan for the delivery and deployment of the company's COVID-19 vaccine candidate that is being co-developed with BioNTech." This program's purpose is to establish a model to help ensure a vaccine's quick and equitable deployment after potential approval.
Update – November 18, 2020: Pfizer announced that the Phase 3 study of the company's COVID-19 vaccine candidate BNT162b2 has concluded, with efficacy established at 95%. The safety milestone set forth by the FDA for Emergency Use Authorization (EUA) has been met. The vaccine candidate was well tolerated across all populations in the study. Pfizer and BioNTech plan to share their data globally over the following several days and submit to the FDA for EUA.
Update – November 20, 2020: Pfizer announced on November 20, 2020 that they would submit the request for EUA to the FDA that same day, which would "potentially enable use of the vaccine in high-risk populations in the U.S. by the middle to end of December 2020."
Update – December 02, 2020: Pfizer and BioNTech announced on December 02, 2020 that they've received the first authorization in the world for emergency use of their vaccine in the U.K. from the Medicines & Healthcare Products Regulatory Agency (MHRA). More regulatory decisions are expected in the coming weeks.
Update – December 10, 2020: Pfizer and BioNTech announced that the U.S. Food and Drug Administration's (FDA) Vaccines and Related Biological Products Advisory Committee (VRBPAC) voted 17 to 4 in support of the FDA granting Emergency Use Authorization (EUA) for the companies' COVID-19 mRNA vaccine (BNT162b2).
Update – December 11, 2020: Pfizer and BioNTech announced that "the U.S. Food and Drug Administration (FDA) has authorized the emergency use of the mRNA vaccine, BNT162b2, against COVID-19 in individuals 16 years of age or older."
Update – December 12, 2020: Pfizer and BioNTech announced that following the FDA EUA approval on December 11, 2020, a U.S. CDC independent committee of health experts has recommended their COVID-19 vaccine for persons 16 years of age and older.
Pfizer stock has outperformed the broader market going back to 1986: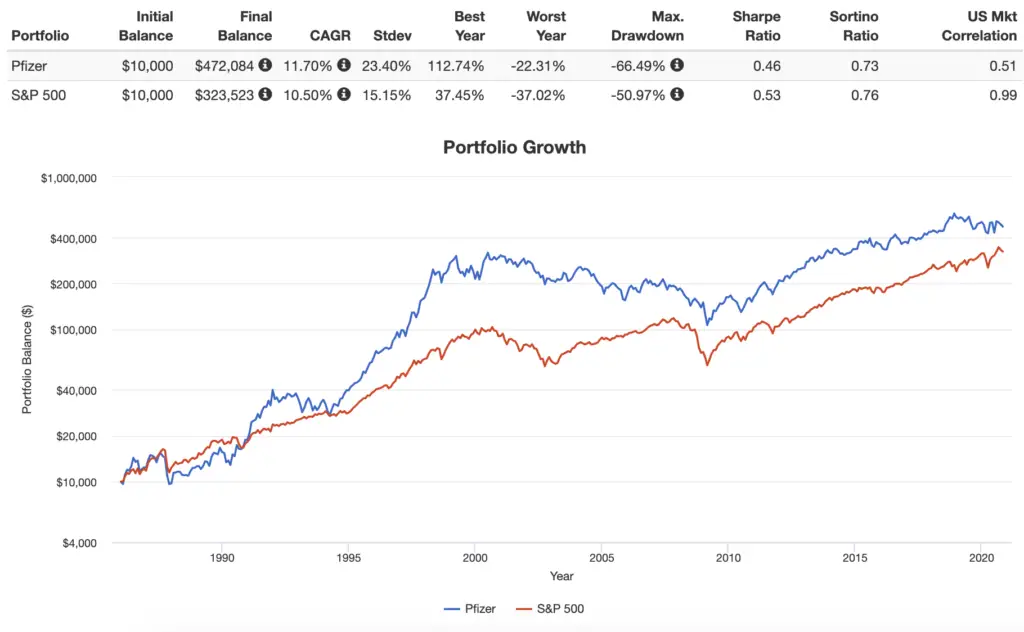 How To Buy Pfizer Stock
First, you'll need an account with a stock broker if you don't already have one. This is an online platform through which you'll access stocks. My choice is M1 Finance. M1 has zero fees and zero trade commissions, and offers automatic rebalancing, fractional shares, and a sleek, user-friendly interface and mobile app. I wrote a comprehensive review of M1 Finance here.
At the time of writing, a single share of Pfizer stock is just north of $30. Fractional shares allow you to use M1's account minimum deposit ($100) to buy roughly 3.13 shares of Pfizer, allowing every penny to go to work for you. After the initial $100 deposit when opening a new account, you can buy new fractional shares of stock in the future whenever your cash balance reaches at least $25, allowing your position to grow with more fractional shares as your stock position grows or as you deposit more cash into your account. This makes the compounding happen faster, allowing your investments to grow more quickly.
Opening an account with a brokerage only takes about 10 minutes. After that you can connect your bank account to deposit money into your investment account. Then just type in what's called the ticker symbol – the unique identifying abbreviation for the stock – for Pfizer (PFE) and place the buy order with just a few clicks. It's that simple! You can obviously buy Pfizer alongside other stocks in your portfolio to diversify, or just invest entirely in Pfizer if you want to.
Think about how a Pfizer holding would fit within your larger portfolio. The company is a particularly solid choice if your portfolio is lacking healthcare stocks.
How To Invest in Pfizer Stock – Quick Steps
To recap:
Sign up for a new account with an online brokerage like M1 Finance.
Connect your bank and fund your brokerage account.
Enter the ticker symbol – PFE – or the company name to locate the stock.
Place the buy order. You're done! You can now call yourself a Pfizer shareholder.
---
Disclaimer:  While I love diving into investing-related data and playing around with backtests, this is not financial advice, investing advice, or tax advice. The information on this website is for informational, educational, and entertainment purposes only. Investment products discussed (ETFs, mutual funds, etc.) are for illustrative purposes only. It is not a recommendation to buy, sell, or otherwise transact in any of the products mentioned. I always attempt to ensure the accuracy of information presented but that accuracy cannot be guaranteed. Do your own due diligence. I mention M1 Finance a lot around here. M1 does not provide investment advice, and this is not an offer or solicitation of an offer, or advice to buy or sell any security, and you are encouraged to consult your personal investment, legal, and tax advisors. All examples above are hypothetical, do not reflect any specific investments, are for informational purposes only, and should not be considered an offer to buy or sell any products. All investing involves risk, including the risk of losing the money you invest. Past performance does not guarantee future results. Opinions are my own and do not represent those of other parties mentioned. Read my lengthier disclaimer here.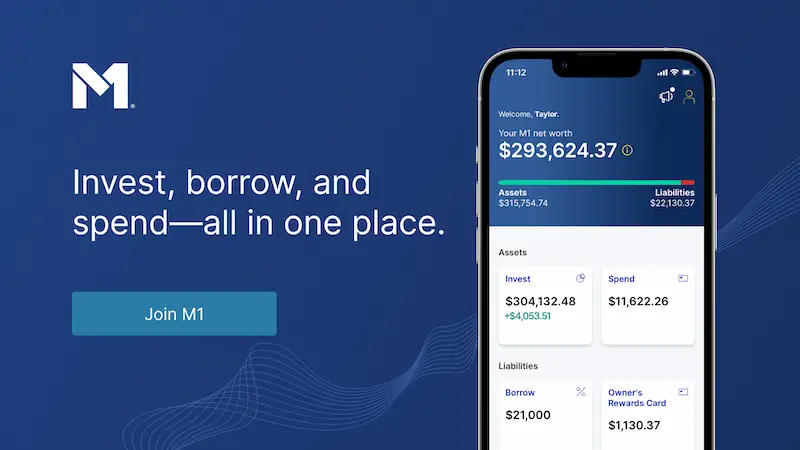 Are you nearing or in retirement? Use my link here to get a free holistic financial plan from fiduciary advisors at Retirable to manage your savings, spend smarter, and navigate key decisions.
Don't want to do all this investing stuff yourself or feel overwhelmed? Check out my flat-fee-only fiduciary friends over at Advisor.com.