Water is a supremely important resource that is scarce in certain areas around the world. Here we look at how to invest in water stocks with 4 popular ETFs.
Disclosure:  Some of the links on this page are referral links. At no additional cost to you, if you choose to make a purchase or sign up for a service after clicking through those links, I may receive a small commission. This allows me to continue producing high-quality, ad-free content on this site and pays for the occasional cup of coffee. I have first-hand experience with every product or service I recommend, and I recommend them because I genuinely believe they are useful, not because of the commission I get if you decide to purchase through my links. Read more here.
Introduction – Why Water Stocks?
It's admittedly a bit weird to think of water as an investment. But with recent floods, droughts, industrialization, and agriculture around the world, water is quickly becoming a scarce resource that savvy investors are capitalizing on. Water is largely taken for granted in developed countries. But of the world's entire water supply, only roughly 1% is ready for drinking.
Generally speaking, water is also a simple, essential commodity that can add diversification to one's portfolio. Stock indexes have even emerged in recent years to solely track water stocks. Companies with direct exposure to water include utilities, beverage providers, water treatment organizations, and equipment manufacturers (pumps, pipes, meters, filters, etc.). New investment opportunities and financial products continue to arise with the recent increasing need and demand for water and water investment vehicles.
How to Invest in Water Stocks – 4 Popular ETFs
Thankfully, we don't have to research and bet on water stocks individually. Water-focused ETFs – collections of stocks – have emerged. Below we'll look at 4 of the most popular ETFs for water stocks.
PHO – Invesco Water Resources ETF
Established in 2005, the Invesco Water Resources ETF is the largest ETF in the water space with over $1B in assets. It seeks to track the NASDAQ OMX US Water Index, comprised of 36 water-related companies in the U.S. This ETF carries an expense ratio of 0.60%.
CGW – Invesco S&P Global Water ETF
Prefer to go global? The Invesco S&P Global Water ETF looks beyond just the U.S. to track the S&P Global Water Index. The fund was created in 2007 and holds 52 water stocks from around the globe. The fund has over $600M in assets and has an expense ratio of 0.59%.
FIW – First Trust Water ETF
FIW is an ETF from First Trust that tracks the ISE Clean Edge Water Index, comprised of 36 U.S. water stocks. The fund has an expense ratio of 0.55% and has over $500M in assets.
PIO – Invesco Global Water ETF
The Invesco Global Water ETF (PIO) focuses more on large-caps than CGW. It has 45 holdings from around the world. The fund has roughly $200M in assets and seeks to track the Nasdaq OMX Global Water Index. PIO has an expense ratio of 0.75%.
Where to Buy These Water ETFs
Out of these, to invest in water stocks, I would probably go with PHO and/or CGW. All these water-focused ETFs are available on M1 Finance. The online broker has zero transaction fees and offers fractional shares, dynamic rebalancing, and a modern, user-friendly interface and mobile app. I wrote a comprehensive review of M1 Finance here.
---
Disclosures:  None.
Disclaimer:  While I love diving into investing-related data and playing around with backtests, this is not financial advice, investing advice, or tax advice. The information on this website is for informational, educational, and entertainment purposes only. Investment products discussed (ETFs, mutual funds, etc.) are for illustrative purposes only. It is not a recommendation to buy, sell, or otherwise transact in any of the products mentioned. I always attempt to ensure the accuracy of information presented but that accuracy cannot be guaranteed. Do your own due diligence. I mention M1 Finance a lot around here. M1 does not provide investment advice, and this is not an offer or solicitation of an offer, or advice to buy or sell any security, and you are encouraged to consult your personal investment, legal, and tax advisors. All examples above are hypothetical, do not reflect any specific investments, are for informational purposes only, and should not be considered an offer to buy or sell any products. All investing involves risk, including the risk of losing the money you invest. Past performance does not guarantee future results. Opinions are my own and do not represent those of other parties mentioned. Read my lengthier disclaimer here.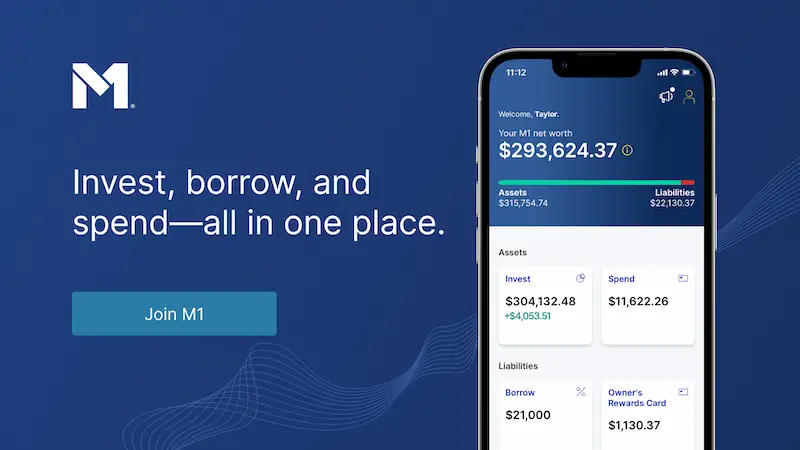 Are you nearing or in retirement? Use my link here to get a free holistic financial plan from fiduciary advisors at Retirable to manage your savings, spend smarter, and navigate key decisions.
Don't want to do all this investing stuff yourself or feel overwhelmed? Check out my flat-fee-only fiduciary friends over at Advisor.com.