M1 Finance is now featuring early direct deposit with their checking account component called M1 Spend.
Disclosure:  Some of the links on this page are referral links. At no additional cost to you, if you choose to make a purchase or sign up for a service after clicking through those links, I may receive a small commission. This allows me to continue producing high-quality, ad-free content on this site and pays for the occasional cup of coffee. I have first-hand experience with every product or service I recommend, and I recommend them because I genuinely believe they are useful, not because of the commission I get if you decide to purchase through my links. Read more here.
In case you haven't heard me mention it elsewhere, M1 Finance is a modern all-in-one finance tool offering retirement accounts, taxable brokerage accounts, checking accounts, investment loans, a credit card, and more. They have a sleek mobile app and an intuitive desktop interface. I wrote a comprehensive review of the platform here. 
Some of their prominent attractive features include a low margin loan rate, automated transfers, fractional share investments, automatic tax lot optimization, an extremely competitive interest rate on savings, and perhaps my favorite, automatic rebalancing of investment allocations from new deposits, which allows you to avoid tax costs from capital gains.
M1's checking account product is called M1 Spend. Their newest feature that was recently announced is early direct deposit, allowing you to get paid up to 2 days earlier than your usual pay day.
Direct deposit just means your paycheck goes into your bank account electronically and automatically without you having to lift a finger, deal with paper checks (and the possibility of them being lost), or go to a bank. This is thanks to the automated clearing house network, or ACH. All you have to do is provide the account number and routing number of your bank account to enroll in direct deposit. This benefits the employer too, allowing for faster payment processing. Hopefully you're familiar with that great technology already. It's the fastest way to get paid.
Early direct deposit makes it even faster. As the name suggests, it just means you're able to get your paycheck early – up to 2 days sooner in this case. This is a feature of M1 Finance, not of your employer or their bank. Basically, the initiating financial institution lets M1 know that a deposit (your paycheck) is arriving soon, so M1 goes ahead and gives you access to those funds while they process the transaction on the backend. This feature is free and automatic.
Over the long term, early direct deposit can be a valuable thing to have. Remember the time value of money, the concept that a sum is worth more now than in the future due to its earnings potential. Getting your money sooner means you can start earning interest on it faster inside M1 Spend. Or it means you can invest it sooner if you so choose. In either case, this will result in greater interest/returns earned over the long term.
In terms of investing, we explored previously why dollar cost averaging is a demonstrably suboptimal strategy on average, and why holding cash on the sidelines in an attempt to "buy the dip" is even worse. The takeaway was that all investable cash should be invested as soon as it becomes available. For most people, this is simply going to be every 2 weeks or so when you get paid. Early direct deposit allows you to invest that money earlier every time.
But suppose you don't care about any of that. Many people live paycheck to paycheck. Early direct deposit allows you to have less stress about missing bill payments or having unexpected expenses. Your payday doesn't always align with due dates for bills. Most due dates accumulate around the 1st of the month. Many unfortunately have to simply accept late fees and overdraft fees as a normal part of life when they have no alternative. Early direct deposit should allow you to more easily avoid those fees. If your payday is every other Friday, now it's every other Wednesday.
Let's talk about the broader M1 Spend. It's an integrated FDIC-insured checking account that you can attach to your investment accounts to seamlessly transfer between them. You get a debit card, 1 ATM fee reimbursement per month, and early direct deposit, all with no balance minimums and no annual fee. 
Upgrade to the M1 Plus premium membership and get 1% APY – the highest around right now – and 1% cash back on purchases, as well as 4 ATM fee reimbursements per month, fully reimbursed international transaction fees, and the ability to send electronic checks. With M1 Plus, you can also set up automated "Smart Transfers" to algorithmically transfer between your accounts without you having to manually check balances and initiate transfers yourself.
Again, there's no minimum balance to open account. No minimum balance to obtain APY (annual percentage yield). APY valid from account opening. Fees may reduce earnings. Rates may vary.
Zooming out further, M1 Invest allows you to open retirement, custodial, and taxable investment accounts to start growing your wealth. The intuitive pie interface allows you to select investments and specify allocations, or use pre-built Expert Pies if you don't even care to do that. Tax optimization minimizes tax costs by selling lots with losses first, followed by long term capital gains, followed by short term gains. You could set up a Smart Transfer, for example, to deposit anything from your Spend account in excess of $1,000 to your Invest account to be invested automatically.
The feature I like the most that seems to be overlooked and under-appreciated is what M1 calls dynamic rebalancing. If your portfolio is 50% stocks and 50% bonds, for example, and stocks rise by 10% and bonds fall by 10%, your portfolio allocation is now 55/45. About once a year, you want to rebalance it, in this case selling stocks and buying bonds to get it back to its original 50/50. In a taxable brokerage account, this would incur capital gains taxes. But with M1, your new deposits automatically go to the underweight asset, bringing things back into balance without you having to sell anything.
Then there's also M1 Borrow, the margin loan that M1 allows you to borrow against your portfolio's investments. They have an extremely competitive margin loan interest rate, made even lower when you're an M1 Plus member. You can use the borrowed money to cover unexpected expenses, or to add leverage to your investments by buying more of them. Note that Borrow is an additional risk, including the risk of losing more than invested. It is available for margin accounts with $5,000 equity or more. It is not available for retirement or custodial accounts. Rates may vary.
M1 Finance currently has an account transfer promotion to earn up to $15,000 as outlined below:
M1 also currently has a promotion for up to $500 when initially funding an investment account: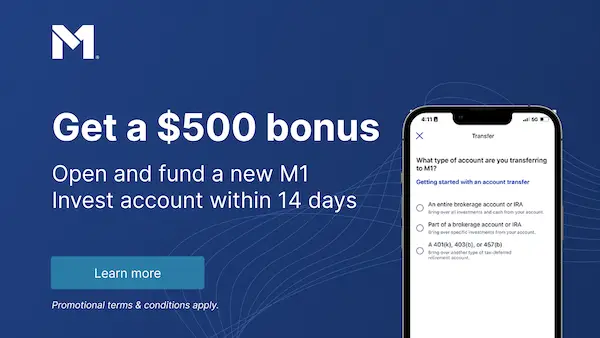 ---
Interested in more Lazy Portfolios? See the full list here.
Disclaimer:  While I love diving into investing-related data and playing around with backtests, this is not financial advice, investing advice, or tax advice. The information on this website is for informational, educational, and entertainment purposes only. Investment products discussed (ETFs, mutual funds, etc.) are for illustrative purposes only. It is not a recommendation to buy, sell, or otherwise transact in any of the products mentioned. I always attempt to ensure the accuracy of information presented but that accuracy cannot be guaranteed. Do your own due diligence. I mention M1 Finance a lot around here. M1 does not provide investment advice, and this is not an offer or solicitation of an offer, or advice to buy or sell any security, and you are encouraged to consult your personal investment, legal, and tax advisors. All examples above are hypothetical, do not reflect any specific investments, are for informational purposes only, and should not be considered an offer to buy or sell any products. All investing involves risk, including the risk of losing the money you invest. Past performance does not guarantee future results. Opinions are my own and do not represent those of other parties mentioned. Read my lengthier disclaimer here.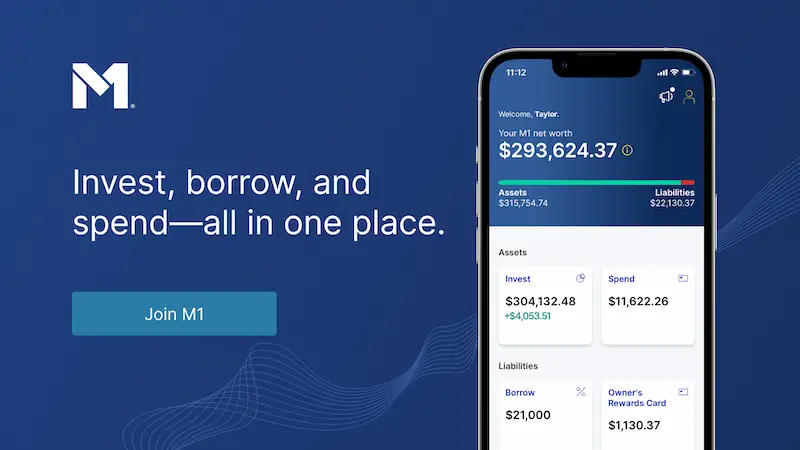 Are you nearing or in retirement? Use my link here to get a free holistic financial plan from fiduciary advisors at Retirable to manage your savings, spend smarter, and navigate key decisions.
Don't want to do all this investing stuff yourself or feel overwhelmed? Check out my flat-fee-only fiduciary friends over at Advisor.com.