SGOV is a relatively new ETF from iShares for 0-3 month U.S. Treasury bonds, called T-bills. But is it a good investment for 2023? I review it here.
Disclosure:  Some of the links on this page are referral links. At no additional cost to you, if you choose to make a purchase or sign up for a service after clicking through those links, I may receive a small commission. This allows me to continue producing high-quality, ad-free content on this site and pays for the occasional cup of coffee. I have first-hand experience with every product or service I recommend, and I recommend them because I genuinely believe they are useful, not because of the commission I get if you decide to purchase through my links. Read more here.
SGOV ETF Review Video
Prefer video? Watch it here:
SGOV ETF Methodology, Dividend Yield, and Fees
SGOV is the iShares 0-3 Month Treasury Bond ETF. It launched in mid-2020 and has since quickly amassed nearly $7 billion in assets, making it one of the most popular ETFs for Treasury Bills. SGOV took in nearly $1 billion in its first 5 months.
SGOV is a pretty simple fund. It just tracks an index that holds ultra short term U.S. Treasury bonds – called T Bills – that mature in 3 months or less. That index is the ICE 0-3 Month US Treasury Securities Index, which is rebalanced monthly.
Because T-bills are the safest bonds out there, we call them a "cash equivalent" and the 3-month T-bill rate is used as what we call the "risk-free rate" when comparing other assets. Some investors even use T-bill funds like SGOV as a savings account for their emergency fund.
The phrase "cash equivalent," may make you think negligible returns, but T-bills have returned 3.02% annualized historically going back to 1926 for the U.S.
Inflows into T-bill funds like SGOV have soared in recent months to capture their currently-very-attractive yield and to take up a safe haven in short-term U.S. government debt issues. At the time of writing in January 2023, the 3 month T Bill rate is 4.57%, and 5% is not out of the question by the end of the year. Even the past 30 days or so going into 2023 have seen record inflows – nearly $10 billion in the first trading week of the year – into short-term government bond funds after fearful investors are fleeing stocks en masse.
SGOV has an SEC yield of 5.01% and an effective duration of a little over 1 month. It pays its dividend monthly. SGOV is also the most affordable ETF for T-bills with a low fee of 0.07%.
Update 7/21/23: SGOV now has an SEC yield of 5.21% as of July 21, 2023.
SGOV ETF Performance
In its short lifespan thus far, SGOV has beaten its index: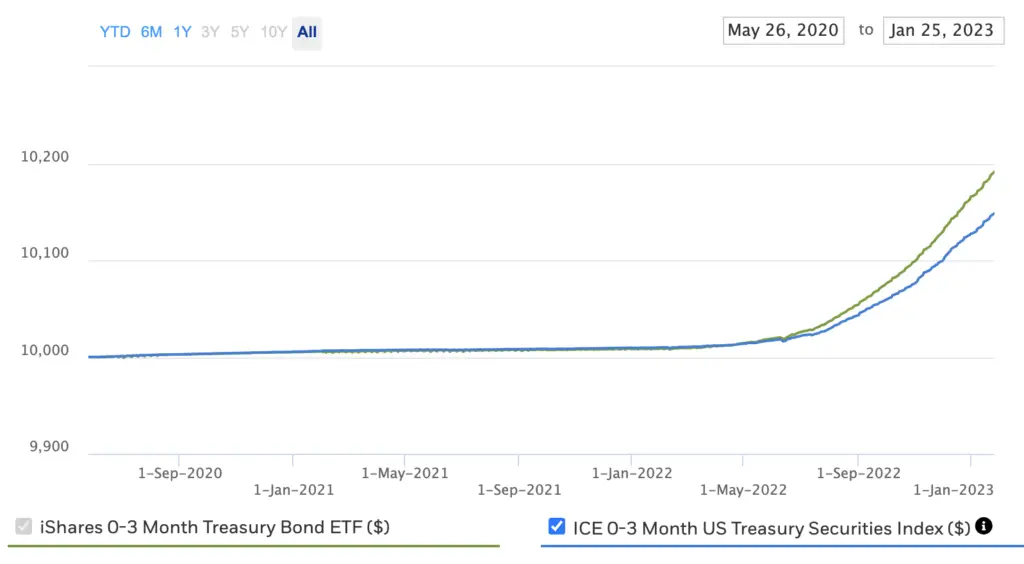 Is SGOV a Good Investment?
So is SGOV a good investment? Sure, if you want T-bills and don't want to bother with buying and rolling a ladder of individual bonds yourself.
SGOV is clearly a great low-cost index fund for T-bills, evidenced by its huge AUM and massive inflows in 2023, and it's the cheapest in its space.
Conveniently, SGOV should be available at any major broker, including M1 Finance, which is the one I'm usually suggesting around here.
What do you think of SGOV? Do you own it? Let me know in the comments.
---
Disclosure: None.
Disclaimer:  While I love diving into investing-related data and playing around with backtests, this is not financial advice, investing advice, or tax advice. The information on this website is for informational, educational, and entertainment purposes only. Investment products discussed (ETFs, mutual funds, etc.) are for illustrative purposes only. It is not a recommendation to buy, sell, or otherwise transact in any of the products mentioned. I always attempt to ensure the accuracy of information presented but that accuracy cannot be guaranteed. Do your own due diligence. All investing involves risk, including the risk of losing the money you invest. Past performance does not guarantee future results. Opinions are my own and do not represent those of other parties mentioned. Read my lengthier disclaimer here.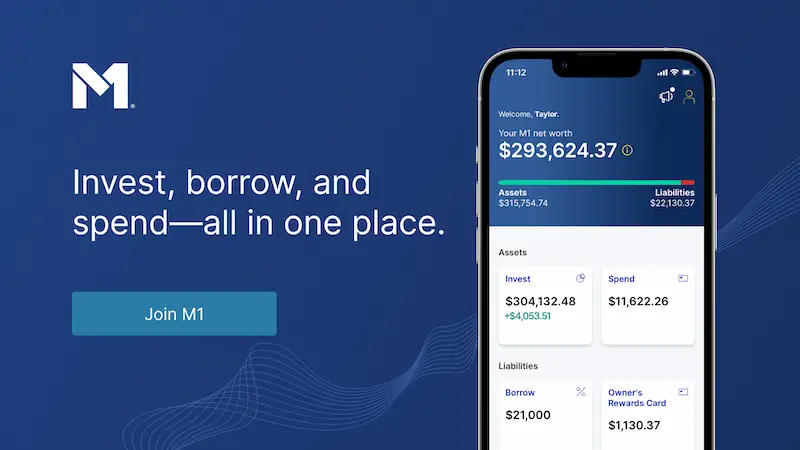 Don't want to do all this investing stuff yourself or feel overwhelmed? Check out my flat-fee-only fiduciary friends over at Advisor.com.