VYM is a popular dividend ETF from Vanguard to capture high-yield U.S. stocks. But is it a good investment? I review it here.
First, note that I don't chase dividends. But I recognize that many investors use dividends to supplement their current income, particularly in retirement. Others just irrationally prefer dividend-paying stocks. I even designed a dividend-focused portfolio for income investors that utilizes VYM.
Disclosure:  Some of the links on this page are referral links. At no additional cost to you, if you choose to make a purchase or sign up for a service after clicking through those links, I may receive a small commission. This allows me to continue producing high-quality, ad-free content on this site and pays for the occasional cup of coffee. I have first-hand experience with every product or service I recommend, and I recommend them because I genuinely believe they are useful, not because of the commission I get if you decide to purchase through my links. Read more here.
---
VYM ETF Review Video
Prefer video? Watch it here:
VYM Methodology, Dividend Yield and Fees
VYM is the Vanguard High Dividend Yield ETF. The fund is a very popular dividend ETF from Vanguard that launched in 2006. Since then, the fund has amassed over $40 billion in assets.
VYM seeks to track the FTSE High Dividend Yield Index. To qualify, stocks must have a 12-month history of dividend payments and also a positive forecasted dividend for the next 12 months. REITs are excluded. Constituents are then ranked by that forecasted dividend and the top half are selected for inclusion. Those holdings are then market cap weighted to maintain sector diversification.
As such, VYM can be described as a large cap value fund. On average, larger stocks are more stable, are less risky, and have more predictable cash flow than smaller stocks. Value stocks have also outperformed growth stocks historically due to what we believe is a risk premium. VYM has nearly 450 holdings. Top holdings include household names like Exxon Mobil, Home Depot, and Bank of America.
VYM also happens to be one of the cheapest dividend funds out there with a fee of 0.06%.
At the time of writing, VYM has a dividend yield of 3.06%. Since it excludes REITs, this certainly isn't the highest yielding fund out there, but it should be one of the more stable, reliable ones.
VYM Sector Composition
For being a large cap dividend fund, VYM is pretty well diversified across sectors aside from its excluding REITs entirely. But the fund naturally tilts toward some traditionally "defensive" sectors like Consumer Staples and Utilities.
| Sector | Weight |
| --- | --- |
| Basic Materials | 4.2% |
| Consumer Staples | 12.8% |
| Consumer Discretionary | 8.3% |
| Financials | 20.1% |
| Healthcare | 13.1% |
| Industrials | 9.9% |
| Energy | 10.0% |
| Technology | 6.9% |
| Telecommmunications | 5.4% |
| Utilities | 8.0% |
| Real Estate | 0.0% |
VYM Performance
Going back to 2006 when VYM launched and looking through 2021, it has lagged the S&P 500 on both a general and risk-adjusted basis, but has had slightly lower volatility: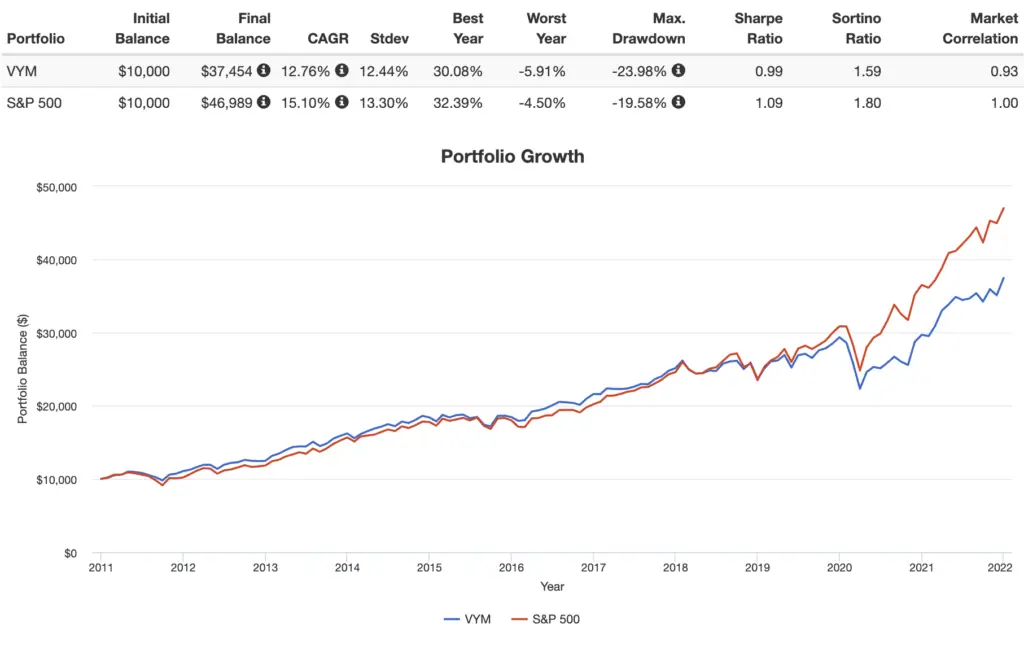 Is VYM a Good Investment?
So is VYM a good investment? Maybe.
VYM is certainly not the highest yielding dividend fund out there, but it is pretty well diversified across sectors within U.S. large caps, making it attractive for U.S. investors who don't care about missing out on international stocks, REITs, mid-caps, and small-caps.
VYM's factor exposure is not insignificant. The fund delivers positive exposure to equity risk factors like Value, Profitability, and Investment, but has negative loading on Size since it tilts large cap. Specifically, the weighted average market cap of VYM is about $150 billion.
I delved into factors in a separate post here. As I've noted elsewhere, the historical success of dividend investing as a whole is largely rooted in these factor premia.
This makes VYM a decent way to capture companies thought to have a sustainable, higher-than-average dividend and steady cash flow. That's why I made it a component in the dividend portfolio I designed for income investors.
Conveniently, VYM should be available at any major broker, including M1 Finance, which is the one I'm usually suggesting around here.
What do you think of VYM? Let me know in the comments.
---
Disclaimer:  While I love diving into investing-related data and playing around with backtests, this is not financial advice, investing advice, or tax advice. The information on this website is for informational, educational, and entertainment purposes only. Investment products discussed (ETFs, mutual funds, etc.) are for illustrative purposes only. It is not a recommendation to buy, sell, or otherwise transact in any of the products mentioned. I always attempt to ensure the accuracy of information presented but that accuracy cannot be guaranteed. Do your own due diligence. All investing involves risk, including the risk of losing the money you invest. Past performance does not guarantee future results. Opinions are my own and do not represent those of other parties mentioned. Read my lengthier disclaimer here.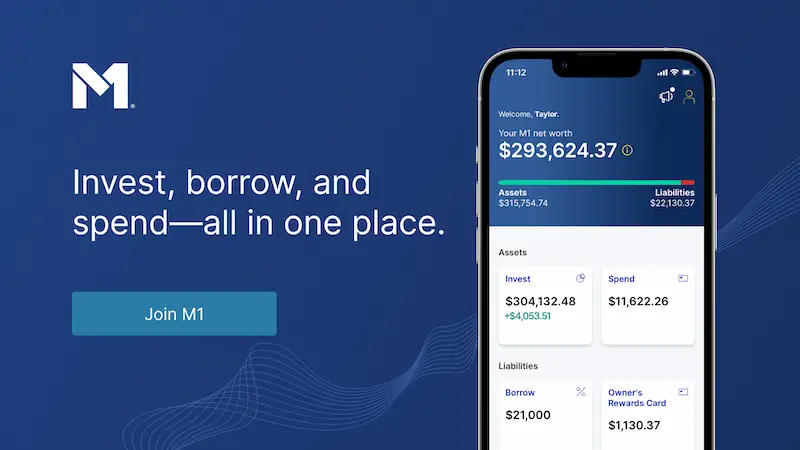 Are you nearing or in retirement? Use my link here to get a free holistic financial plan from fiduciary advisors at Retirable to manage your savings, spend smarter, and navigate key decisions.
Don't want to do all this investing stuff yourself or feel overwhelmed? Check out my flat-fee-only fiduciary friends over at Advisor.com.