Google is a tech giant that keeps innovating to grab new corners of our lives. Here are the steps for how to invest in Google stock with as little as $100.
Disclosure:  Some of the links on this page are referral links. At no additional cost to you, if you choose to make a purchase or sign up for a service after clicking through those links, I may receive a small commission. This allows me to continue producing high-quality, ad-free content on this site and pays for the occasional cup of coffee. I have first-hand experience with every product or service I recommend, and I recommend them because I genuinely believe they are useful, not because of the commission I get if you decide to purchase through my links. Read more here.
Introduction – Why Invest in Google?
Google is one of the largest stocks on the stock market and is one of the most well-known brands. The tech giant now controls most people's search engine, video sharing site, email inbox, web browser, and virtual assistant across the globe, and is gaining ground on things like analytics and advertising platforms, virtual conferencing, mobile operating system, spreadsheet and document processors, and more. In short, it's basically impossible to not use Google in some form nowadays.
Google began as a relatively simple search engine in a garage in 1998, helping users find relevant web results. The company has since evolved into a plethora of interrelated products and services across a variety of industries that usually make people's lives easier. The company recently passed the $1 trillion value mark in 2020.
While the search engine is obviously its bread and butter, Google has seen huge success with other products as well such as:
Chrome
Docs
Sheets
Analytics
Google Ads
Android OS
etc.
The overarching parent company is actually called Alphabet now since 2015. This restructuring separated the stalwart Google from the "moonshot" side bets like autonomous vehicle technology. Though Google is a fairly diversified tech product as a whole, most of its revenue comes from its digital advertising platform called Google Ads (formerly AdWords), through which business can pay for clicks to get visitors to their website. These are the ads you see at the top of the search results pages and on websites you visit, including YouTube. This revenue should continue to increase as more brands continue to adopt and embrace digital channels even more, especially in a post-pandemic world.
Google's earnings usually beat estimates. The company is now competing with Amazon in the smart home appliance space, and even recently launched a cloud-based gaming platform. They are also battling Apple in the smartphone arena with the Pixel. These may end up being losing battles, but again, this revenue is only a small portion of the total.
Google's stock went public in 2004. It may arguably be past its glory days of record-breaking movement, but that doesn't mean it's not still a solid bet for consistent long-term growth, as its user base should reliably grow and continue to use the company's multitude of platforms. The search engine has a whopping 92% global market share, and its Android OS isn't too far behind for mobile smartphones, for which Google is conveniently the default search engine. Recently, YouTube Music and YouTube Premium now boast over 30 million paid subscribers combined.
Understandably, 2020 has been an uneventful year for Google, as many businesses pulled back on digital advertising budgets during the COVID-19 pandemic, and travel searches (and subsequent bookings) decreased significantly. This is actually good news; the stock price sitting idly may present a buying opportunity. We may even see a sharp rebound in early- to mid-2021 as advertisers and searchers return. In any case, as usual, take the long-term view instead of trying to act on short-term news.
Going back to 2004, Google stock has massively outperformed the broader market: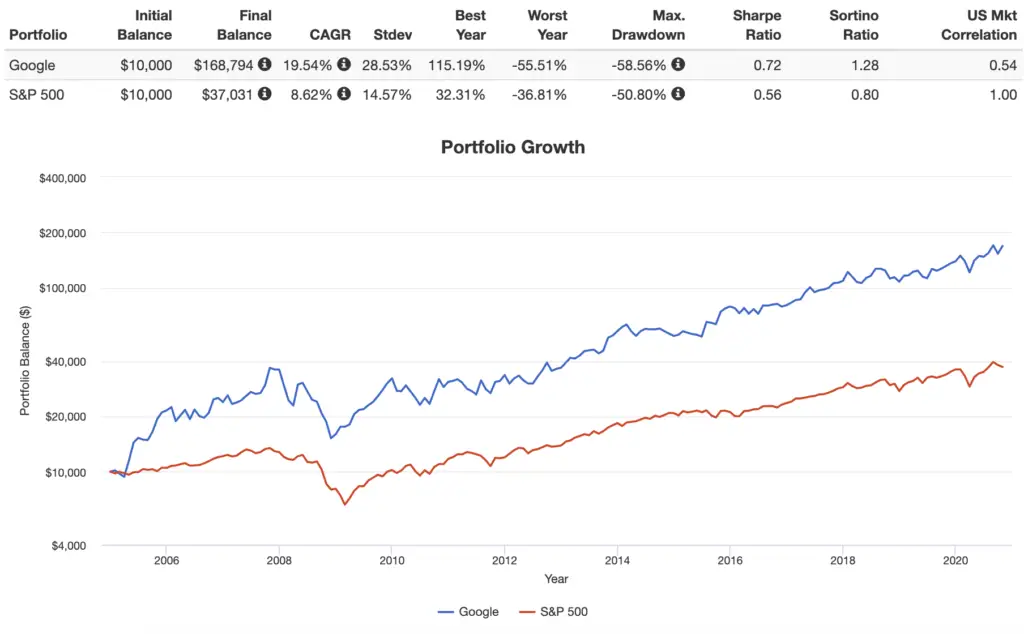 How To Buy Google Stock
To buy Google stock, first you'll need an account with a stock broker if you don't already have one. This is an online platform through which you can buy and sell stocks. This account is called your brokerage account or investment account. My choice is M1 Finance. M1 has zero fees and zero trade commissions, and offers automatic rebalancing, fractional shares, and a sleek, user-friendly interface and mobile app. I wrote a comprehensive review of M1 Finance here.
At the time of writing, a single share of Google stock is north of $1,700. Pretty pricey. Thankfully, we can use what are called fractional shares. Fractional shares allow you to use M1's account minimum deposit ($100) to buy, as the name suggests, a fraction of a single share of stock. In this case, $100 gets you roughly 1/17 of a single share of Google.
After the initial $100 deposit when opening a new account, you can buy new fractional shares of stock in the future whenever your cash balance reaches at least $25, allowing your position to grow with more fractional shares as your stock position grows or as you deposit more cash into your brokerage account. This makes the compounding happen faster, allowing your investments to grow more quickly.
Opening a brokerage account with a broker only takes about 10 minutes. After that you can connect your bank account to deposit money into your investment account. Then just type in what's called the ticker symbol – the unique identifying abbreviation for the stock – for Google (GOOGL) and place the buy order with just a few clicks. It's that simple! You can obviously buy Google alongside other stocks in your portfolio to diversify, or just invest entirely in Google if you want to.
Assess how holding Google stock fits inside your larger portfolio. If your portfolio is lacking large tech stocks, then Google can be a great addition.
How To Invest in Google Stock – Quick Steps
To recap:
Sign up to open a new brokerage account with an online brokerage like M1 Finance.
Connect your bank and fund your brokerage account.
Enter the ticker symbol – GOOGL – or the company name to locate the stock.
Place the buy order. You're done! You can now call yourself a Google shareholder.
---
Disclaimer:  While I love diving into investing-related data and playing around with backtests, this is not financial advice, investing advice, or tax advice. The information on this website is for informational, educational, and entertainment purposes only. Investment products discussed (ETFs, mutual funds, etc.) are for illustrative purposes only. It is not a recommendation to buy, sell, or otherwise transact in any of the products mentioned. I always attempt to ensure the accuracy of information presented but that accuracy cannot be guaranteed. Do your own due diligence. I mention M1 Finance a lot around here. M1 does not provide investment advice, and this is not an offer or solicitation of an offer, or advice to buy or sell any security, and you are encouraged to consult your personal investment, legal, and tax advisors. All examples above are hypothetical, do not reflect any specific investments, are for informational purposes only, and should not be considered an offer to buy or sell any products. All investing involves risk, including the risk of losing the money you invest. Past performance does not guarantee future results. Opinions are my own and do not represent those of other parties mentioned. Read my lengthier disclaimer here.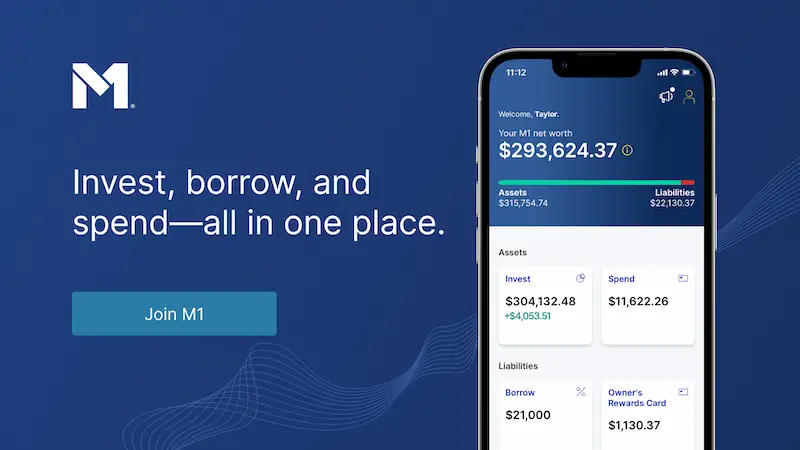 Are you nearing or in retirement? Use my link here to get a free holistic financial plan from fiduciary advisors at Retirable to manage your savings, spend smarter, and navigate key decisions.
Don't want to do all this investing stuff yourself or feel overwhelmed? Check out my flat-fee-only fiduciary friends over at Advisor.com.