The technology sector has had a particularly stellar run in recent years, considerably outperforming the market. Here we'll review the best tech ETFs to buy tech stocks in 2021
Disclosure:  Some of the links on this page are referral links. At no additional cost to you, if you choose to make a purchase or sign up for a service after clicking through those links, I may receive a small commission. This allows me to continue producing high-quality, ad-free content on this site and pays for the occasional cup of coffee. I have first-hand experience with every product or service I recommend, and I recommend them because I genuinely believe they are useful, not because of the commission I get if you decide to purchase through my links. Read more here.
In a hurry? Here's the list:
VGT – Vanguard Information Technology ETF
XLK – Technology Select Sector SPDR Fund
QQQ – Invesco QQQ Trust
FDN – First Trust Dow Jones Internet Index Fund
ARKK – ARK Innovation ETF
Introduction – Why Tech Stocks?
The tech sector is comprised of companies related to software, electronics, internet, computers, and other technological products and services. Think Apple, Microsoft, Adobe, Amazon, etc. Tech stocks are growth stocks, reinvesting profits into R&D and future projects to drive growth through innovation and invention. They usually pay low or no dividends.
The tech sector has expanded over the years as more internet- and software-focused companies have emerged. It is now by far the largest sector in the stock market, comprising over 25% of the total market by weight. Every corner of the modern economy touches technology in some way. Tech has been a major contributor to the growth of the total stock market in recent years, and specifically Big Tech (Amazon, Apple, Google, Microsoft, etc.). Because of this concentration of weight, constituents of the tech sector were reshuffled in late 2018 with a redefining of the GICS, e.g. Amazon went to Consumer Discretionary, Facebook went to Communication, etc.
Tech stocks have vastly outpaced the market over the last decade: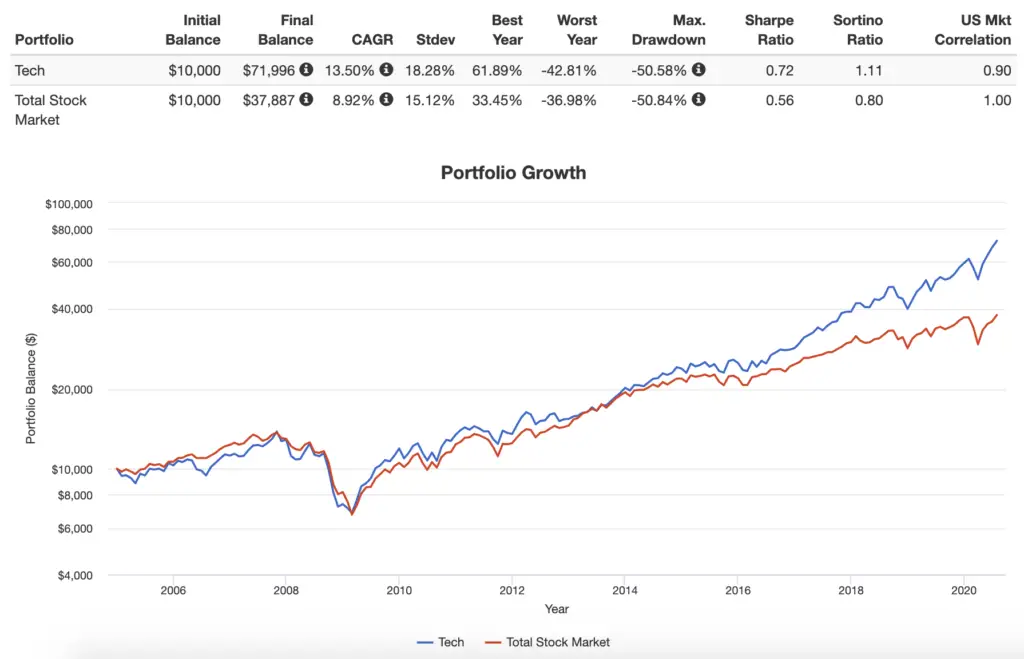 Many speculate that tech will continue its meteoric rise. Only time will tell.
Let's look at the best tech ETFs.
The 5 Best Tech ETFs
Below are the 5 best tech ETFs to buy tech stocks:
VGT – Vanguard Information Technology ETF
The Vanguard Information Technology ETF (VGT) is one of the most popular tech ETFs on the market, with over $38 billion in assets. The fund seeks to track the MSCI US Investable Market Information Technology 25/50 Index, providing broad exposure to the tech sector in the United States. This ETF has over 320 holdings and an expense ratio of 0.10%.
XLK – Technology Select Sector SPDR Fund
The Technology Select Sector SPDR Fund (XLK) is another popular broad tech ETF. The fund was established in 1998 and seeks to track the Technology Select Sector Index. This ETF has 72 holdings. Whereas VGT above provides about 10% mid-cap growth exposure, XLK is exclusively large-caps. XLK has an expense ratio of 0.13%.
QQQ – Invesco QQQ Trust
The Invesco QQQ Trust is the most popular fund on this list, with over $130 billion in assets. This ETF tracks the NASDAQ-100 Index. While The NASDAQ-100 is not explicitly a tech index, QQQ may actually provide the broadest diversification to what was previously "tech" after the aforementioned sector restructuring. At the time of writing, the fund has sector exposures of 48% Technology, 20% Communication, and 17% Consumer Discretionary. This gets you access to all the Big Tech players in one single fund – Apple, Amazon, Microsoft, Facebook, Google, Netflix, and more. This ETF has an expense ratio of 0.20%.
FDN – First Trust Dow Jones Internet Index Fund
Prefer to specifically target internet companies like Amazon, Facebook, Paypal, Google, Netflix, and Twitter? The First Trust Dow Jones Internet Index Fund has become extremely popular in recent years due to the success of these companies; it has over $10 billion in assets. The fund was established in 2006, has 42 holdings, and seeks to track the Dow Jones Internet Composite Index. This narrower targeting comes at a price; this ETF has an expense ratio of 0.52%.
ARKK – ARK Innovation ETF
ARKK is an actively managed ETF from ARK Invest, led by Catherine Wood. The firm has an impressive track record in recent years for beating the market with their focus on technology stocks. ARKK focuses on "disruptive innovation," defined by ARK as "the introduction of a technologically enabled new product or service that potentially changes the way the world works." This includes things like genomics, automation, energy, internet, and fintech (financial tech). Notable holdings in its typical range of 35-55 companies include Tesla, Square, LendingTree, Zillow, Spotify, Facebook, and more. This ETF does provide a small amount of international exposure at about 6%, though most of its holdings are in the U.S. ARKK has over $8 billion in assets and an expense ratio of 0.75%.
Where to Buy These Tech ETFs
All these tech ETFs should be available at any major broker. My choice is M1 Finance for U.S. investors. The broker has zero trade commissions and zero account fees, and offers fractional shares, dynamic rebalancing, and a modern, user-friendly interface and mobile app. I wrote a comprehensive review of M1 Finance here.
Canadians can find the above ETFs on Questrade or Interactive Brokers. Investors outside North America can use eToro or possibly Interactive Brokers.
---
Disclosures:  None.
Interested in more Lazy Portfolios? See the full list here.
Disclaimer:  While I love diving into investing-related data and playing around with backtests, I am in no way a certified expert. I have no formal financial education. I am not a financial advisor, portfolio manager, or accountant. This is not financial advice, investing advice, or tax advice. The information on this website is for informational and recreational purposes only. Investment products discussed (ETFs, mutual funds, etc.) are for illustrative purposes only. It is not a recommendation to buy, sell, or otherwise transact in any of the products mentioned. Do your own due diligence. Past performance does not guarantee future returns. Read my lengthier disclaimer here.