Microsoft is one of the largest tech companies in the world. Below are the steps for how to invest in Microsoft stock with as little as $100.
Disclosure:  Some of the links on this page are referral links. At no additional cost to you, if you choose to make a purchase or sign up for a service after clicking through those links, I may receive a small commission. This allows me to continue producing high-quality, ad-free content on this site and pays for the occasional cup of coffee. I have first-hand experience with every product or service I recommend, and I recommend them because I genuinely believe they are useful, not because of the commission I get if you decide to purchase through my links. Read more here.
Introduction – Why Invest in Microsoft?
Microsoft used to be the largest company in the world. It started small in the 1970's, providing software to computer makers like IBM and Apple. As computers became smaller and more available to consumers, Microsoft's business grew too. Many will remember the preinstalled Windows operating system from their first computer. Microsoft Office Suite products like Word, Excel, and PowerPoint remain extremely popular to this day, even among Mac users, though the company has diversified greatly since its early days of earning licensing fees from its Windows operating system installations.
Microsoft's rapid success rocketed founder and CEO Bill Gates to being the richest person in the world by the 1990's. With Satya Nadella now at the helm since 2014, the company is poised to have more revenue diversification than ever before, being a major player across multiple industries outside of software like cloud computing, hardware, gaming, social networking, apps, and more. Think Xbox, Surface tablets (used widely in remote work and education/learning applications), and ad revenue from its search engine Bing. Note too that Microsoft still has a controlling market share of its bread and butter in desktop operating systems with Windows. All of these areas made Microsoft particularly resilient throughout 2020 and the global pandemic, and are expected to be more prominent in a post-pandemic world.
Microsoft's Office Suite is also now a cloud-based SaaS (software as a service) product, so they can charge an annual license fee to users. Lesser known is the fact that Microsoft has been signing some huge deals with the likes of the U.S. Department of Defense and SpaceX to use its cloud computing infrastructure platform, Azure. In fact, Microsoft's revenue from its cloud services grew by over 20% year over year for 2020. The company is not just your grandfather's tech stock; with its agile transition to mobile and cloud computing, it's looking like a young growth stock again.
Microsoft shareholders have seen a steady rise over the years. The company famously has a lower default risk – as determined by credit ratings agencies – than the U.S. federal government. Microsoft has also avoided the antitrust investigations that its tech peers like Google, Facebook, and Amazon are undergoing. Perhaps most importantly, Microsoft has a large economic "moat" – the ability to maintain competitive advantage to protect market share – because the company's major revenue segments have a high barrier to entry. Its strong and expanding profit margins are an added bonus. Microsoft has somewhat of a physical moat as well; it's sitting on over $135 billion in cash reserves.
Microsoft has far outpaced the broader market since it went public in 1986: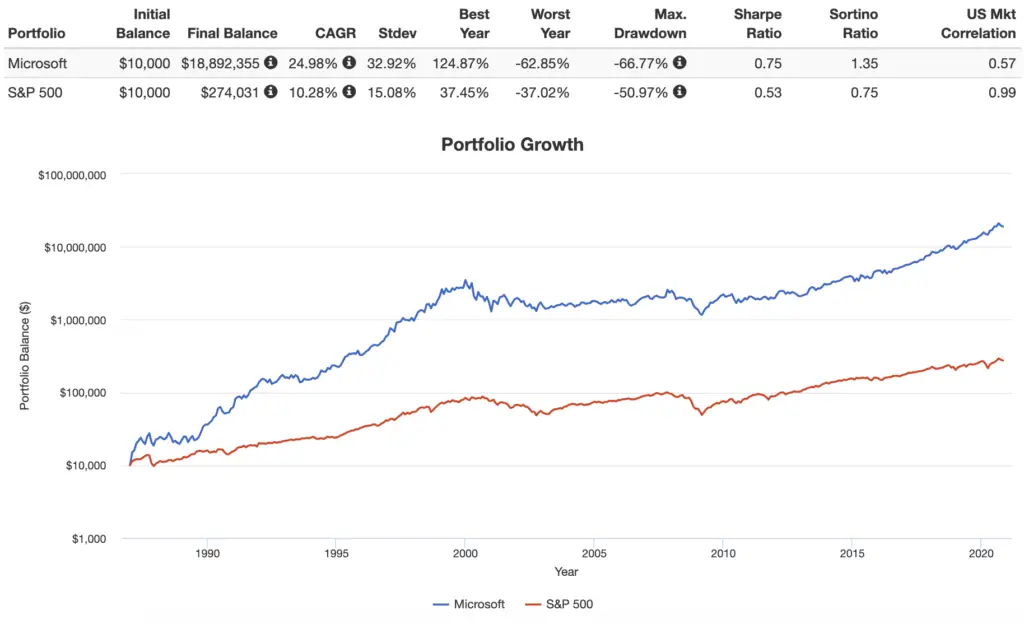 How To Buy Microsoft Stock
To buy Microsoft stock, first you'll need an account with an online stock broker if you don't already have one. This account will be your brokerage account, used to buy and sell stocks. I'd suggest M1 Finance. M1 has zero fees and zero trade commissions and offers automatic rebalancing, fractional shares, and a sleek, user-friendly interface and mobile app. I wrote a comprehensive review of M1 Finance here.
At the time of writing, Microsoft's share price is hovering a little over $200. Fractional shares allow you to use M1's account minimum deposit ($100) to buy roughly 1/2 of a single share of Microsoft stock, allowing every penny to go to work for you. After the initial $100 deposit when opening a new account, you can buy new fractional shares of stock in the future whenever your cash balance reaches at least $25.
Opening a brokerage account will only take about 10 minutes. After that you can connect your bank account to deposit money into it. Then just type in what's called the ticker symbol – the unique identifying abbreviation for the stock – for Microsoft (MSFT) and place the buy order with just a few clicks. It's that simple! You can obviously buy Microsoft alongside other stocks in your portfolio, or invest entirely in Microsoft if you want to.
Take note of how investing in Microsoft will fit into your larger portfolio. For example, if you don't have a lot of exposure to technology stocks, Microsoft becomes an even better investment choice to diversify your holdings.
How To Invest in Microsoft Stock – Quick Steps
To recap:
Sign up for a brokerage account with an online brokerage like M1 Finance.
Connect your bank and fund your brokerage account.
Enter the ticker symbol – MSFT – or the company name to locate the stock.
Place the buy order. You're done! You can now call yourself a Microsoft shareholder.
---
Disclaimer:  While I love diving into investing-related data and playing around with backtests, this is not financial advice, investing advice, or tax advice. The information on this website is for informational, educational, and entertainment purposes only. Investment products discussed (ETFs, mutual funds, etc.) are for illustrative purposes only. It is not a recommendation to buy, sell, or otherwise transact in any of the products mentioned. I always attempt to ensure the accuracy of information presented but that accuracy cannot be guaranteed. Do your own due diligence. All investing involves risk, including the risk of losing the money you invest. Past performance does not guarantee future results. Opinions are my own and do not represent those of other parties mentioned. Read my lengthier disclaimer here.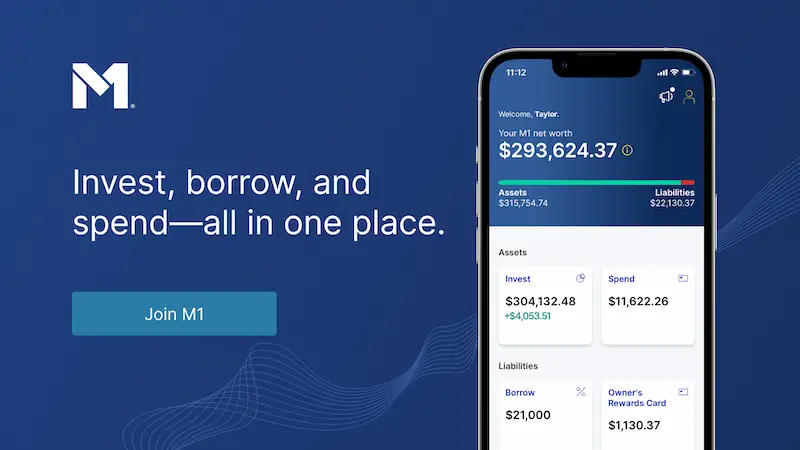 Are you nearing or in retirement? Use my link here to get a free holistic financial plan from fiduciary advisors at Retirable to manage your savings, spend smarter, and navigate key decisions.
Don't want to do all this investing stuff yourself or feel overwhelmed? Check out my flat-fee-only fiduciary friends over at Advisor.com.