Ready to invest in the largest company in the world? Below are the steps for how to invest in Apple stock with as little as $100.
Disclosure:  Some of the links on this page are referral links. At no additional cost to you, if you choose to make a purchase or sign up for a service after clicking through those links, I may receive a small commission. This allows me to continue producing high-quality, ad-free content on this site and pays for the occasional cup of coffee. I have first-hand experience with every product or service I recommend, and I recommend them because I genuinely believe they are useful, not because of the commission I get if you decide to purchase through my links. Read more here.
Introduction – Why Invest in Apple?
If you've landed here, you probably already know why Apple has been a great investment historically. It's also likely that you already own an Apple product; over 2/3 of Americans do. The consumer electronics giant has fundamentally shaped and revolutionized some of the largest industries like computers, cell phones, music devices, and more. Apple is currently the largest company in the world by market capitalization; it is thus the largest holding in any broad, market-cap weighted index fund. Apple makes up a whopping 6% of the S&P 500 by weight, an index of the 500 largest companies in the United States. It became the first company to reach a market capitalization of $1 trillion.
Apple has far outpaced the market (see below) and most other stocks historically. The company has indeed had its ups and downs, early on in its infancy, but it has risen to establish itself as a cornerstone of the technology sector and a driving force and literal trendsetter in terms of technological innovation. Perhaps the best example of this is the ubiquitous iPhone, which launched in 2007. Apple is one of the rare examples of a company whose customers become part of a loyal following after buying a single product, whether it's an iPhone or iMac or Macbook, usually causing them to buy other Apple products. The interconnectivity between Apple's products is an added benefit. Apple recently launched its 5G-enabled iPhone 12 and is seeing major growth in its complementary product segments like Services and wearables.
Apple often delivers better-than-expected earnings, which is usually the cause of the famous surges in its stock price. iPhones and Macbooks don't seem to be going anywhere anytime soon, so the company's future growth potential looks promising. Most analysts expect Apple to continue its stellar growth, as the company seems to dominate nearly every market segment it enters and shows no signs of slowing. Here's how Apple has fared versus the broader market historically since 1986: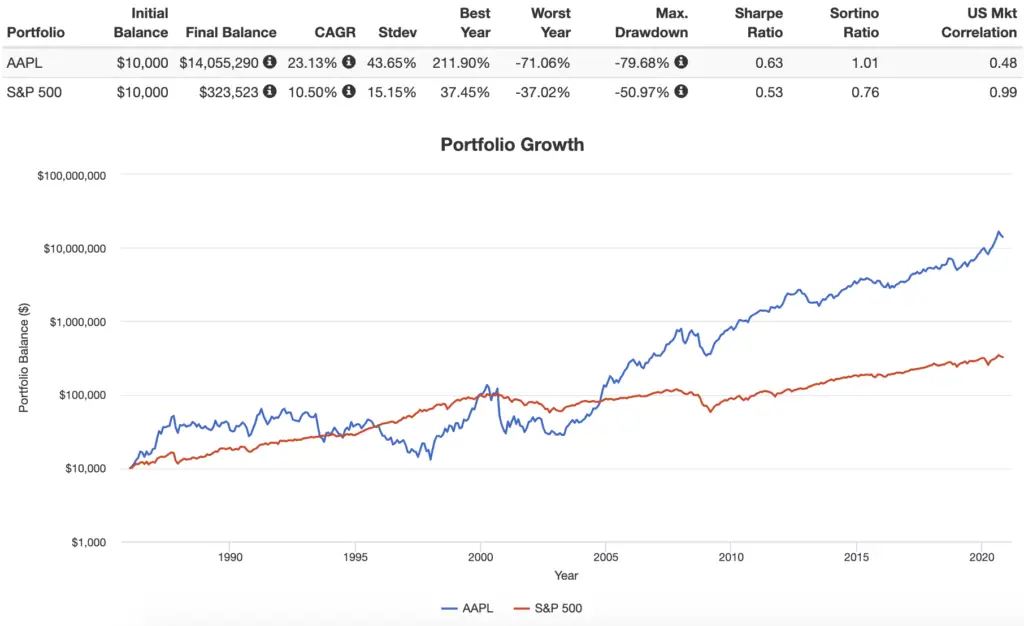 How To Buy Apple Stock
First you'll need an account with an online stock broker if you don't already have one. I'd suggest M1 Finance. M1 has zero fees and zero trade commissions and offers automatic rebalancing, fractional shares, and a sleek, user-friendly interface and mobile app. I wrote a comprehensive review of M1 Finance here.
Thankfully, recent stock splits have made Apple stock more accessible with a share price around $125 at the time of writing. Fractional shares allow you to use M1's account minimum deposit ($100) to buy roughly 4/5 of a share of Apple, allowing every penny to go to work for you. After the initial $100 deposit when opening a new account, you can buy new fractional shares of stock in the future whenever your cash balance reaches at least $25.
Opening an account with a brokerage will only take about 10 minutes. After that you can connect your bank account to deposit money into your investment account. Then just type in what's called the ticker symbol – the unique identifying abbreviation for the stock – for Apple (AAPL) and place the buy order with just a few clicks. It's that simple! You can obviously buy Apple alongside other stocks in your portfolio, or invest entirely in Apple if you want to.
Take note of how investing in Apple will fit into your larger portfolio. For example, if you don't have a lot of exposure to technology stocks, Apple becomes an even better investment choice to diversify your holdings.
How To Invest in Apple Stock – Quick Steps
To recap:
Sign up for a new account with an online brokerage like M1 Finance.
Connect your bank and fund your brokerage account.
Enter the ticker symbol – AAPL – or the company name to locate the stock.
Place the buy order. You're done! You can now call yourself an Apple shareholder.
---
Disclosures:  None.
Disclaimer:  While I love diving into investing-related data and playing around with backtests, I am in no way a certified expert. I have no formal financial education. I am not a financial advisor, portfolio manager, or accountant. This is not financial advice, investing advice, or tax advice. The information on this website is for informational and recreational purposes only. Investment products discussed (ETFs, mutual funds, etc.) are for illustrative purposes only. It is not a recommendation to buy, sell, or otherwise transact in any of the products mentioned. Do your own due diligence. Past performance does not guarantee future returns. Read my lengthier disclaimer here.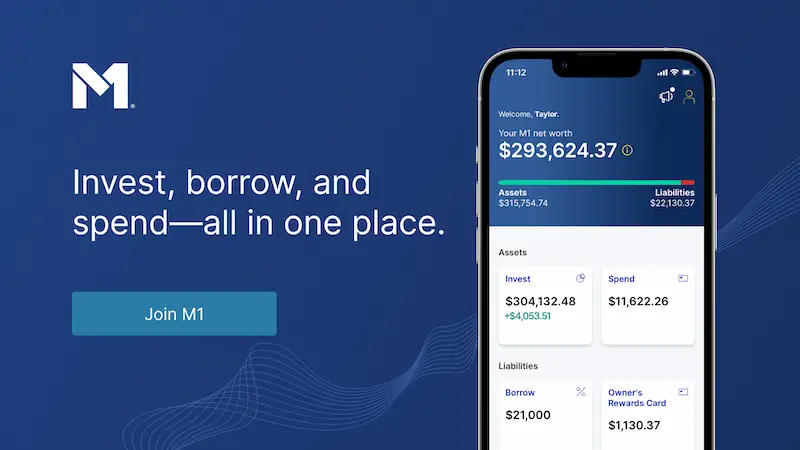 Don't want to do all this investing stuff yourself or feel overwhelmed? Check out my flat-fee-only fiduciary friends over at Advisor.com.