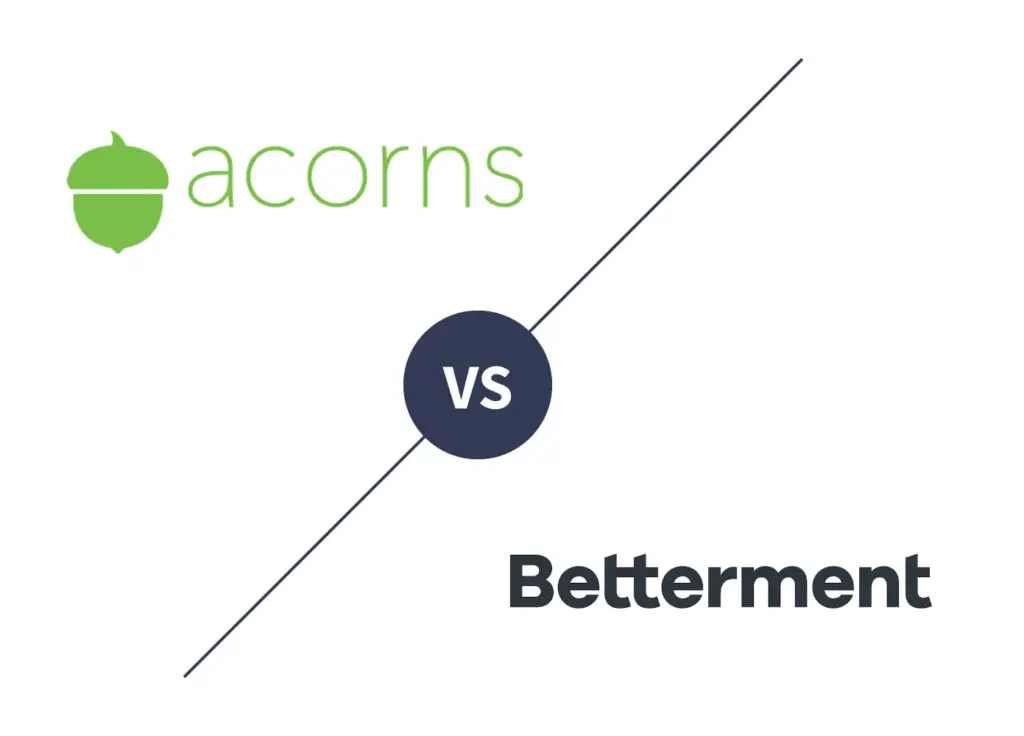 Robo-advisors like Acorns and Betterment have been rising in popularity recently with low fees, simplicity, convenience, and modern apps and interfaces, especially among young, new investors. Here we'll compare Acorns and Betterment.
Disclosure:  Some of the links on this page are referral links. At no additional cost to you, if you choose to make a purchase or sign up for a service after clicking through those links, I may receive a small commission. This allows me to continue producing high-quality, ad-free content on this site and pays for the occasional cup of coffee. I have first-hand experience with every product or service I recommend, and I recommend them because I genuinely believe they are useful, not because of the commission I get if you decide to purchase through my links. Read more here.
Acorns vs. Betterment – Summary Comparison
0.25% of AUM*

0.40% of AUM*

Acorns is a great low-cost robo-advisor with flat, low monthly fees. Acorns features automatic "round-ups" to invest your spare change. If you don't want to think about your investments and don't need the ability to select specific stocks and ETF's, go with Acorns.

Betterment is comparable to Acorns in terms of investment products, but has much higher fees and a few more account types. I don't see a reason to choose Betterment over Acorns unless you're looking to pay for professional advising or if you need a Joint or Trust account.
*Betterment's basic plan charges 0.25% of your annual invested balance. Their Premium plan charges 0.40% of your annual invested balance.
Acorns vs. Betterment – Commissions and Fees
Neither Acorns nor Betterment has commissions on trades, but you can't choose your specific investment products anyway so you're not going to be making any trades like you would with a traditional brokerage. You still have to pay the unavoidable expense ratios on the ETF's (exchange traded funds) in which you're invested with both platforms.
Acorns has 3 tiered account levels with different fees and features:
All 3 account levels have an individual taxable investment account called Acorns Invest.
The Acorns Basic plan at $1/mo. is just a taxable investment account.
The Acorns Plus plan at $2/mo. includes access to retirement accounts – called Acorns Later – in the form of a Traditional IRA, Roth IRA, or SEP IRA.
The Acorns Premium plan is $3/mo. and adds access to an FDIC-insured checking account called Acorns Spend.
Betterment carries a 0.25% annual fee for their basic plan and a 0.40% annual fee for their Premium plan. The Premium plan includes professional investing advice and financial planning advice, and requires a minimum invested balance of $100,000.
These annual fees are based on a percentage of your invested balance, also known as assets under management (AUM). For balances above $2M, you receive a 0.10% discount, reducing the basic fee to 0.15% and the Premium fee to 0.30%.
Betterment's fees look extremely low at first glance, but let's examine how they affect a portfolio's value over time: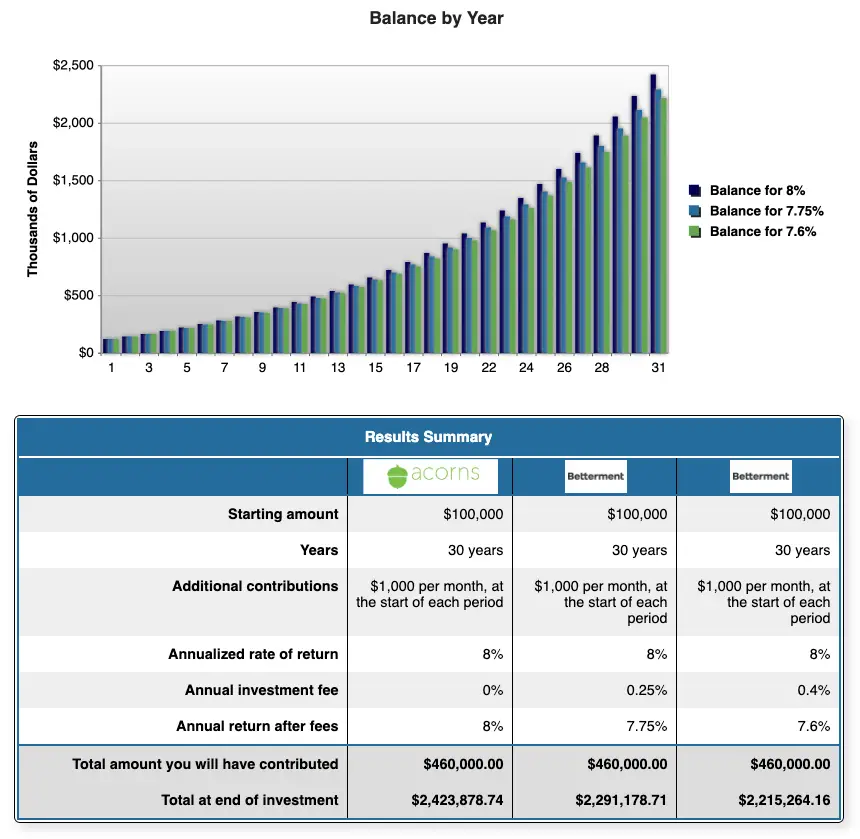 Using a starting balance of $100,000, $1,000 contributed monthly over 30 years, and an annualized rate of return of 8%, Betterment's 0.25% fee costs you $132,700 in fees. The Premium 0.40% fee costs you $208,615 in fees.
Notice how the value differences become more pronounced near the end of the investing horizon when the account value is larger. Such is the power of compound interest, in this case unfortunately working against you.
So obviously Acorns wins on fees.
Acorns vs. Betterment – Account Types
Acorns offers these account types:
Individual (Taxable)
Traditional IRA
Roth IRA
Rollover IRA
SEP IRA
Betterment offers all the same accounts plus Joint and Trust accounts.
Neither platform offers:
SIMPLE IRA
Solo 401(k)
529
HSA
Non-Profit
Acorns vs. Betterment – Investment Products
Acorns and Betterment both provide research-backed, expert-built, globally diversified portfolios based on modern portfolio theory. They are comprised of low-cost ETF's and are based on your risk tolerance. This obviously limits your investing options, but allows you to be completely hands-off in your investing. Neither Acorns nor Betterment allows you to select individual stocks or ETF's.
Neither platform offers mutual funds, options, futures, forex, or cryptocurrency trading.
Acorns vs. Betterment – Mobile App
Acorns and Betterment both have sleek, modern, intuitive, robust mobile app for both Apple iOS and Android, as well as great desktop web interfaces.
Here are some screenshots of the Acorns app: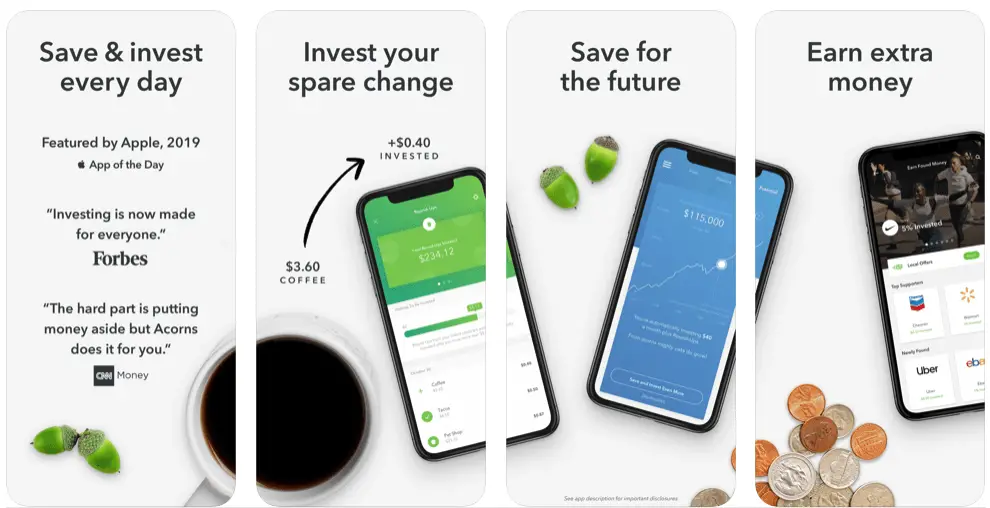 Here are some screenshots of the Betterment app: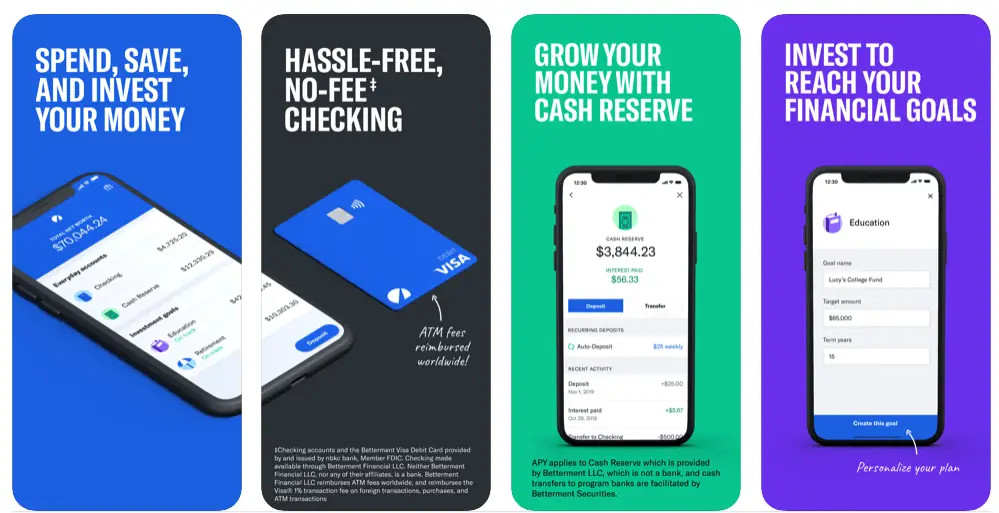 Acorns vs. Betterment – Extra Features
Acorns is unique in that it allows you to invest "spare change" automatically, letting you "round up" your purchases and invest the difference. This is great for people who have trouble saving. You can choose to apply a multiplier on these round-ups of up to 10x to consciously save and invest more. Acorns also lets you fund a retirement account like a Traditional or Roth IRA like you normally would.
Both Acorns and Betterment offer FDIC-insured checking accounts with debit card, making them financial suites rather than just investment brokers. Acorns offers a form of cash back as what they call Found Money®, through which they've partnered with select stores where when you shop there, cash back goes into your Acorns account to be invested. Betterment offers a separate savings account with a 0.40% APY.
Both Acorns and Betterment have some basic educational resources via their blogs related to investing and personal finance.
Acorns and Betterment both also feature automatic rebalancing that keeps your portfolio's target allocations on track.
Both Acorns and Betterment offer fractional shares, a feature that allows every penny to go to work for you faster. This means you can buy a fraction of a share of your investments. For example, if one single share costs $100 and you only have $10 to invest, you can buy 1/10 of a share with your $10 instead of having to wait to buy a whole share for $100. This is especially important for young investors with a small amount of capital.
Both platforms offer dividend reinvestment. A dividend is just a return of value to shareholders as a periodic cash payment by a company. Dividend reinvestment means that when your investments pay a dividend, that payment can be automatically reinvested instead of sitting idly as a cash balance.
Acorns vs. Betterment – Summary and Conclusion
Acorns and Betterment are both true robo-advisors built for passive, long-term, set-and-forget, buy-and-hold investing. Neither platform charges commissions.
Acorns has several account options ranging from $1 to $3 per month. Betterment carries a 0.25% fee for their basic plan and a 0.40% fee for their Premium plan. While they may not look like much, these fees shave off a massive amount of money from your portfolio over the long-term.
Betterment offers a couple more account options than Acorns, namely Joint and Trust.
Both platforms offer a set of expert-built portfolios in which you can invest, comprised of low-cost ETF's.
Acorns and Betterment both have great mobile apps and web interfaces.
Neither platform offers self-directed investing or margin. If you want access to those things, consider M1 Finance.
Both Acorns and Betterment have an optional FDIC-insured checking account, automatic rebalancing, fractional shares, and dividend reinvestment.
Acorns allows you to "round up" your purchases to invest your spare change automatically.
I appreciate that both of these robo-advisors have significantly lowered both the physical and mental barriers to investing, making it about as easy as it can be, especially with the Round-Ups from Acorns that invest your spare change automatically. Jack Bogle, considered the father of index investing, advocated for "the majesty of simplicity." Acorns and Betterment definitely embody that.
The most important consideration between these two comes down to fees in my opinion. As I showed, over one's investing horizon, Betterment's fees end up being significantly higher compared to Acorns. If you don't need professional human advising or Joint or Trust accounts, go with Acorns. If you do need Joint or Trust accounts, I'd suggest considering M1 Finance. They have zero fees.
Disclaimer:  While I love diving into investing-related data and playing around with backtests, this is not financial advice, investing advice, or tax advice. The information on this website is for informational, educational, and entertainment purposes only. Investment products discussed (ETFs, mutual funds, etc.) are for illustrative purposes only. It is not a recommendation to buy, sell, or otherwise transact in any of the products mentioned. I always attempt to ensure the accuracy of information presented but that accuracy cannot be guaranteed. Do your own due diligence. I mention M1 Finance a lot around here. M1 does not provide investment advice, and this is not an offer or solicitation of an offer, or advice to buy or sell any security, and you are encouraged to consult your personal investment, legal, and tax advisors. All examples above are hypothetical, do not reflect any specific investments, are for informational purposes only, and should not be considered an offer to buy or sell any products. All investing involves risk, including the risk of losing the money you invest. Past performance does not guarantee future results. Opinions are my own and do not represent those of other parties mentioned. Read my lengthier disclaimer here.
Are you nearing or in retirement? Use my link here to get a free holistic financial plan from fiduciary advisors at Retirable to manage your savings, spend smarter, and navigate key decisions.
Don't want to do all this investing stuff yourself or feel overwhelmed? Check out my flat-fee-only fiduciary friends over at Advisor.com.