M1 Finance recently introduced "Smart Transfers," a more granular way to automatically transfer money between your M1 accounts. Here we'll look at what Smart Transfers are all about.
Disclosure:  Some of the links on this page are referral links. At no additional cost to you, if you choose to make a purchase or sign up for a service after clicking through those links, I may receive a small commission. This allows me to continue producing high-quality, ad-free content on this site and pays for the occasional cup of coffee. I have first-hand experience with every product or service I recommend, and I recommend them because I genuinely believe they are useful, not because of the commission I get if you decide to purchase through my links. Read more here.
What Are Smart Transfers?
If you've been to this site before, you already know I'm a big fan of M1 Finance. I wrote a comprehensive review of the modern investing platform here.
M1 has always offered automatic scheduled deposits to your investment account from your bank account. For example, you could opt to transfer $100 every 2 weeks from your bank account to your M1 Invest account, and the auto-invest feature would automatically invest it for you, buying holdings at your target allocations.
Now that automation has gone even further, allowing you to automatically transfer money based not a calendar, but on the amount of money per se. The new "Smart Transfers," as they're called, are threshold-based. Investors can choose to automatically transfer and invest any money above a specific threshold from their M1 Spend checking account. For example, I could choose to keep $1000 in my M1 Spend account, and have any excess money automatically invest.
Check out this video from M1 Finance explaining Smart Transfers:
M1 Plus just got better. Introducing Smart Transfers, the automated system that lets you put every available dollar to work, how you want. Just set up a couple of threshold-based rules and you're done. M1 takes over, puts your plan into action, and keeps you on track. Here's an example. Let's say you want to keep $1,000 in your Spend account and always invest the rest. How do you set that up? Start on the Transfers tab and navigate to the Smart Transfers option. You'll get a series of options you can explore. But for this example, you'll select Spend overbalance. Edit this to $1,000 and select the Invest option here. Then you can see a summary of the Smart Transfer you just created. If everything looks good, click on this button and you're done. Now, anytime your Spend account balance is over $1,000, the next available dollars will be invested into your portfolio. This is Smart Transfers, exclusively for M1 Plus members.
Why Use Smart Transfers?
While it may not seem like a big deal, this can be a powerful tool. With regular calendar transfers, let's say you invest $500 every 2 weeks, for a total of $1,000/month. You'd invest at the beginning of the month and then halfway through the month. But what if your account gets more deposits between those dates? Maybe you get a bonus at work or your grandma sends you $20 for your birthday. Instead of having to go in and manually implement another transfer, Smart Transfers can transfer that extra cash automatically. This allows more dollars to go to work for you quicker, thereby allowing your portfolio to grow even faster. Remember, time in the market beats timing the market. While a few days of cash sitting on the sideline may not sound like much, those incremental differences compounded over a long-term investing horizon of 30 years can be significant.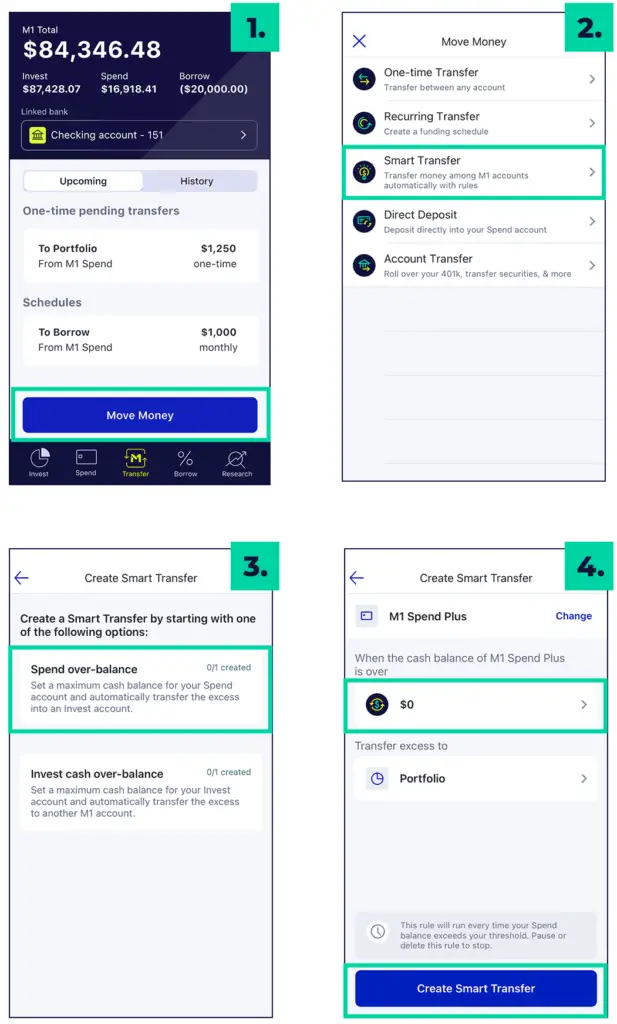 Smart Transfers also add convenience. If an unexpected expense happens where you need to dip into your M1 Spend account, you'd want to stop your automatic calendar deposits happening every 2 weeks in our example above. With Smart Transfers, the system knows not to continue investing if your balance dips below your threshold, in this case $1,000. Once the balance is replenished, Smart Transfers will start up again automatically, all without you having to lift a finger.
You can also have those transfers go the opposite way. Remember the auto-invest threshold for M1 Invest is $25. That is, any cash sitting in the Invest account under $25 will not get invested until the balance reaches $25. Instead of having cash payments from dividends that don't meet the auto-invest threshold sit idly in your Invest account, you can have Smart Transfers put that cash into your M1 Spend account where it earns interest. At the time of writing, that's a 1% APY. This is especially important for new investors with a small account balance, and/or dividend investors who want to reinvest dividends but whose dividend payments are relatively small.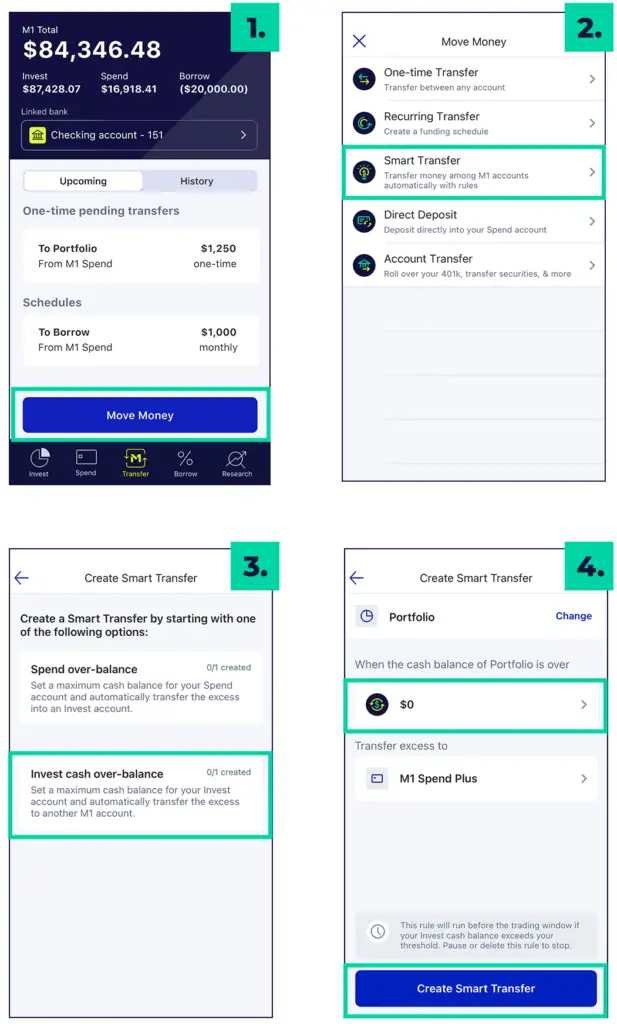 M1 has even hinted that they're working on "smarter Smart Transfers" that will be coming soon, teasing with: "imagine stringing together a chain of Smart Transfers." I would venture to guess that may include applicability to retirement accounts. In my mind, an example might look like this algorithmically:
Set up a Smart Transfer that directs anything over $1,000 to be invested.

Choose a 50/50 deposit split between my IRA and my taxable brokerage account.

Check to see if the IRA has already maxed its contributions for the year.

If not, proceed.
If so, direct 100% to the taxable brokerage account.
Update December 1, 2020: Today M1 announced they've expanded Smart Transfers, and the new scope is precisely what I previously guessed above – being able to set up chains of automatic transfers. For example, once the IRA hits its contribution limit, all transfers will begin going to a taxable account. Conversely, you could choose a set amount to go to your taxable brokerage account as an emergency fund, and then have any excess go to your retirement account. M1 released a new video showing this in action:
I'll admit, at first I didn't think this feature was a big deal. But after thinking through its options and applications of implementation, I now see it can indeed be much more powerful than it appears at first glance. This is yet another feature from M1 to help keep your investing journey on track. As with everything with M1, Smart Transfers are easy to set up on both desktop and mobile.
DCA, Lump Sum, and Smart Transfers
Interestingly, Smart Transfers allow for somewhat of a hybrid of DCA (dollar cost averaging) and lump sum investing. While regular deposits from paychecks (how most people invest) technically satisfy the textbook definition of DCA, in investing circles, the term DCA refers to a strategy of consciously spreading out a sum of money over a series of future periodic deposits to lower portfolio volatility by entering the market at different intervals instead of all at once.
While it sounds nice, research has shown that investing the lump sum all at once beats dollar cost averaging – in terms of total return – on average because, again, time in the market beats timing the market, and the market tends to go up. The lesson there is that, on average, if you experience a windfall (the sudden acquisition of a lump sum of money), you're better off investing it all at once instead of spreading out the deposits over several months.
When your paycheck hits, Smart Transfers will direct a portion of it to be invested. But over the next 2 weeks until your next paycheck, Smart Transfers will also transfer any smaller deposits that happen during that time. In that sense, it's sort of a natural DCA with a smaller time interval (days instead of weeks). This again is advantageous; more money goes into the market sooner, which should translate to higher returns over the long-term.
Conclusion
Threshold-based Smart Transfers inherently have a leg up on traditional calendar-based transfers, and offer efficiency and convenience. Moreover, Smart Transfers put more dollars to work for you faster, thereby allowing your portfolio to grow quicker, and eliminate the dreaded case of idle cash.
Note that at the time of writing, Smart Transfers are only available to M1 Plus members (take advantage of that cheaper margin!) and they currently only work between M1 Spend Plus (the checking account offering from M1 Plus) and M1 Invest taxable accounts. Sign up for M1 Finance today (and M1 Plus!) to take advantage of Smart Transfers.
M1 Finance currently has an account transfer promotion to earn up to $15,000 as outlined below:
M1 also currently has a promotion for up to $500 when initially funding an investment account: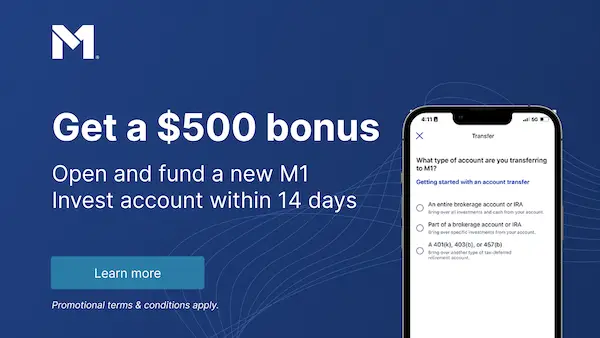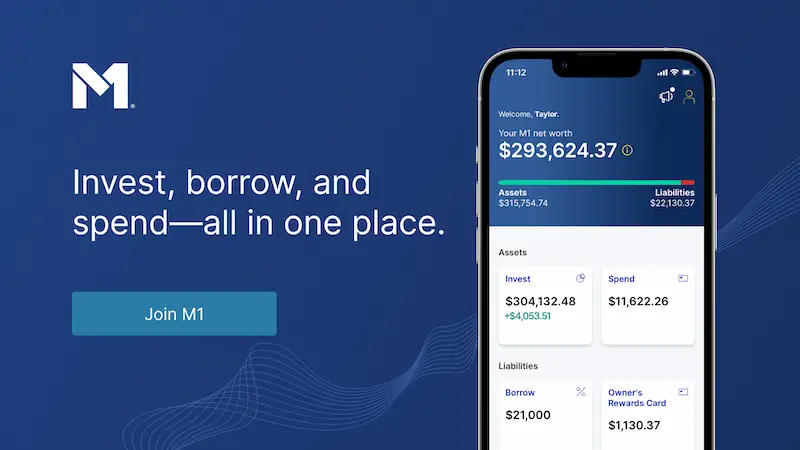 Disclaimer:  While I love diving into investing-related data and playing around with backtests, this is not financial advice, investing advice, or tax advice. The information on this website is for informational, educational, and entertainment purposes only. Investment products discussed (ETFs, mutual funds, etc.) are for illustrative purposes only. It is not a recommendation to buy, sell, or otherwise transact in any of the products mentioned. I always attempt to ensure the accuracy of information presented but that accuracy cannot be guaranteed. Do your own due diligence. All investing involves risk, including the risk of losing the money you invest. Past performance does not guarantee future results. Opinions are my own and do not represent those of other parties mentioned. Read my lengthier disclaimer here.
Are you nearing or in retirement? Use my link here to get a free holistic financial plan from fiduciary advisors at Retirable to manage your savings, spend smarter, and navigate key decisions.
Don't want to do all this investing stuff yourself or feel overwhelmed? Check out my flat-fee-only fiduciary friends over at Advisor.com.