M1 Spend is the checking account product from M1 Finance that includes a debit card. Here we'll check out what all it has to offer.
Disclosure:  Some of the links on this page are referral links. At no additional cost to you, if you choose to make a purchase or sign up for a service after clicking through those links, I may receive a small commission. This allows me to continue producing high-quality, ad-free content on this site and pays for the occasional cup of coffee. I have first-hand experience with every product or service I recommend, and I recommend them because I genuinely believe they are useful, not because of the commission I get if you decide to purchase through my links. Read more here.
What Is M1 Spend?
M1 Spend is simply the checking account component of an M1 Finance account. You're most likely signing up for M1 for an investment account, called M1 Invest. M1 Spend goes hand in hand with M1 Invest, as it lets you park some cash in an FDIC-insured account with a debit card.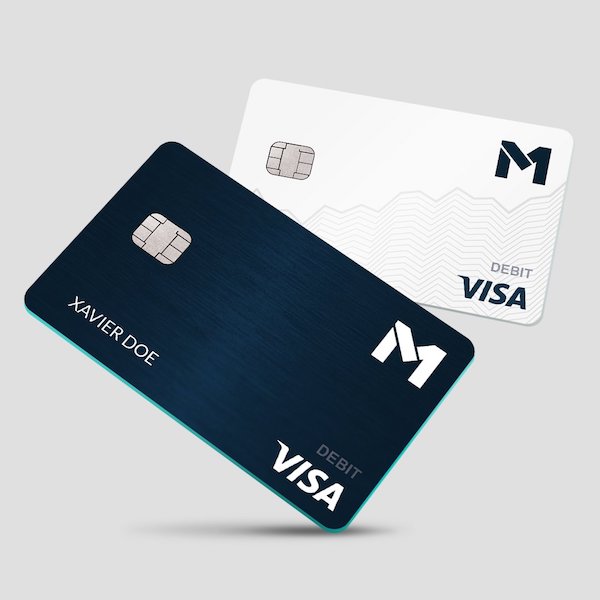 Just like M1 Borrow, M1 Spend seamlessly integrates with Invest under the M1 umbrella, allowing you to easily and quickly transfer cash between accounts. There are no fees and there's no minimum balance required. You can set up direct deposit and use the M1 debit card (for which you can choose from a few designs) wherever Visa cards are accepted, and 1 ATM fee per month is reimbursed, so you can ditch your traditional "big bank." You can also send checks electronically.
M1 Plus, the premium account option, gets you 1.70% APY on the cash balance and 1% cash back on all purchases, as well as an increase to 4 ATM transaction fees reimbursed per month, and all international transaction fees reimbursed. Specific to M1 Spend, M1 Plus also gets you access to Smart Transfers, a powerful feature that allows for automatic, algorithmic money transfers between Spend and Invest.
M1 Spend Review
M1 Spend may not look super exciting at first, but I think it becomes extremely attractive after you pay attention to the details and compare to the alternatives, especially in the current low interest rate environment. I think modern consumers and investors are increasingly realizing that they don't really need a physical bank anymore, and online bank products like M1 Spend are rising in popularity.
Consider that most big banks have fees (and usually hidden fees), minimum balance requirements, zero interest or cash back on a checking account, and sub-1% APY (annual percentage yield) on a savings account. At the time of writing, I'm seeing most APY's on savings accounts are about 0.10%, with the highest being 0.60%. Rates may vary. Some of these banks also require balance thresholds to obtain their stated APY.
M1 Spend, on the other hand, is pretty unique – and comparatively attractive – with its zero fees, cash back, and interest from a checking account with a debit card. There's no minimum balance to open account or to obtain the APY, and the APY is valid from the account opening. Remember that fees may reduce earnings and rates may vary. Here's the breakdown: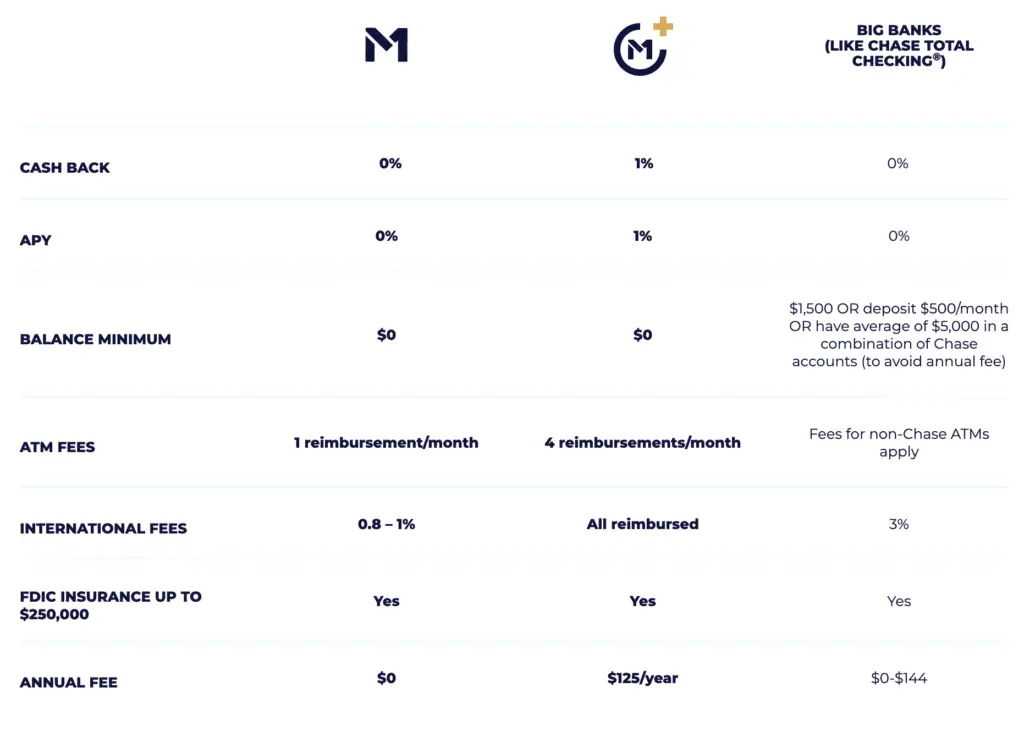 Even if you don't want to spring for the premium M1 Plus to get 1.70% APY and 1% cash back, the zero fees alone is reason enough to use M1 Spend in my opinion, as you likely already have an M1 Invest account (the main reason for using M1 in the first place), so adding an Spend account is as easy as a few clicks. Because of this, M1 Spend instantly becomes intrinsically more powerful, as you'll be able to transfer money faster and easier between accounts.
Adding in the premium M1 Plus option gets you access to Smart Transfers. M1 already allows you to automatically deposit and invest based on a calendar, but Smart Transfers now make that automation threshold-based. Suppose you want to keep $1,000 in your Spend account and automatically invest any excess above that. Smart Transfers can do that automatically for you without you having to lift a finger.
This may not sound like much at first, but remember that ideally we never want cash sitting idly if we plan to invest it, as lump sum investing beats dollar cost averaging on average. That is, we want any investable cash to be in the market as soon as possible for greater compound returns. If you get a sudden bonus at work via direct deposit, instead of that cash sitting in the account waiting for the calendar transfer, a Smart Transfer can get it into Invest – and thus into the market – quicker, and without you having to manually initiate the transfer.
Similarly, a super cool feature is that you can also chain transfers together. For example, you could first direct cash to your retirement account, and then once it hits the contribution limit, to your taxable brokerage account, all automatically. You can also run Smart Transfers in the opposite direction; you can set a specific cash amount in your Invest account to be transferred to Spend so that it starts earning interest instead of sitting idly earning nothing (and losing to inflation!).
M1 Plus also obviously gets you access to the cheap 2% margin rate with M1 Borrow, M1's margin loan product. Full disclosure, remember that margin (M1 Borrow) is an additional risk, including the risk of losing more than invested. M1 Borrow is available for margin accounts with $5,000 equity or more. It is not available for retirement or custodial accounts. Rates may vary.
Another overlooked feature of M1 Spend combined with M1 Plus is the reimbursement of international transaction fees. I've bought things several times in the past from international companies with my usual everyday credit card without realizing I was going to be charged a pretty hefty fee for the transactions. In my case, the reimbursements for these fees alone pay for M1 Plus. If you're using Borrow, M1 Plus also pays for itself after you borrow $8,333.
1.70% APY on a cash balance (park your emergency fund there) is already 33x the national average at the time of writing. M1 sometimes also does periodic promotions for higher cash back on debit card purchases; at least they have historically.
M1 Finance currently has an account transfer promotion to earn up to $15,000 as outlined below:
M1 also currently has a promotion for up to $500 when initially funding an investment account: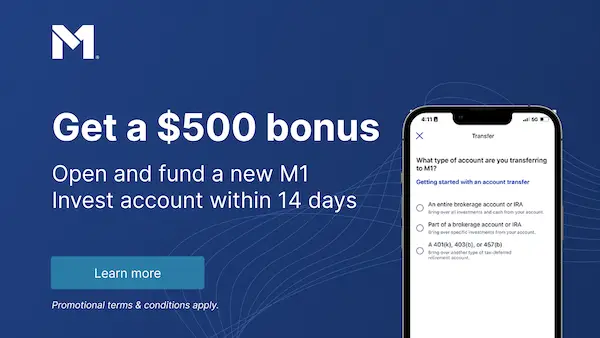 ---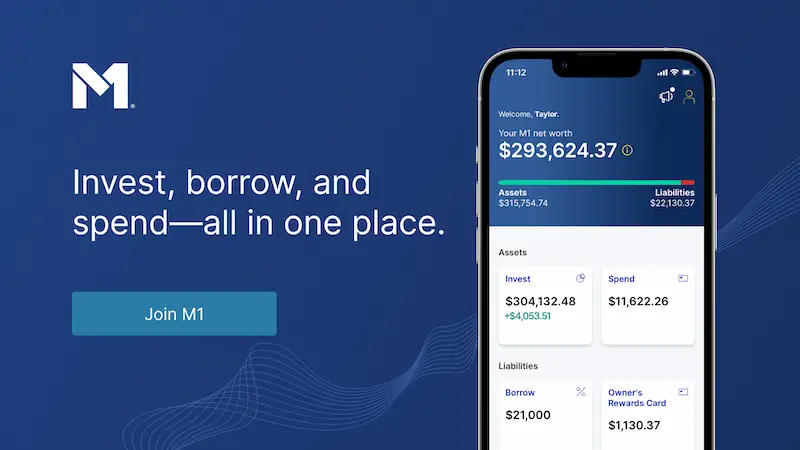 Disclaimer:  While I love diving into investing-related data and playing around with backtests, this is not financial advice, investing advice, or tax advice. The information on this website is for informational, educational, and entertainment purposes only. Investment products discussed (ETFs, mutual funds, etc.) are for illustrative purposes only. It is not a recommendation to buy, sell, or otherwise transact in any of the products mentioned. I always attempt to ensure the accuracy of information presented but that accuracy cannot be guaranteed. Do your own due diligence. I mention M1 Finance a lot around here. M1 does not provide investment advice, and this is not an offer or solicitation of an offer, or advice to buy or sell any security, and you are encouraged to consult your personal investment, legal, and tax advisors. All examples above are hypothetical, do not reflect any specific investments, are for informational purposes only, and should not be considered an offer to buy or sell any products. All investing involves risk, including the risk of losing the money you invest. Past performance does not guarantee future results. Opinions are my own and do not represent those of other parties mentioned. Read my lengthier disclaimer here.
Are you nearing or in retirement? Use my link here to get a free holistic financial plan from fiduciary advisors at Retirable to manage your savings, spend smarter, and navigate key decisions.
Don't want to do all this investing stuff yourself or feel overwhelmed? Check out my flat-fee-only fiduciary friends over at Advisor.com.