Fidelity ZERO funds are index mutual funds from Fidelity with zero fees. But there's a little more to the story. I review them here.
Disclosure:  Some of the links on this page are referral links. At no additional cost to you, if you choose to make a purchase or sign up for a service after clicking through those links, I may receive a small commission. This allows me to continue producing high-quality, ad-free content on this site and pays for the occasional cup of coffee. I have first-hand experience with every product or service I recommend, and I recommend them because I genuinely believe they are useful, not because of the commission I get if you decide to purchase through my links. Read more here.
Video
Prefer video? Watch it here:
Introduction – What Are Fidelity ZERO Funds?
Fidelity ZERO funds are a specific line of mutual funds from Fidelity that launched in 2018 with, as the name suggests, zero fees. Yes, you heard that right. The expense ratio for these funds is 0.00%. Obviously this means investors get to hold on to more of their returns. So for Fidelity investors looking for the lowest cost access to the stock market, these mutual funds satisfy that goal.
Fees are one of the few aspects of investing that investors can control. All else equal, one of the core tenets of the Boglehead philosophy is to minimize fees wherever possible. These Fidelity ZERO funds definitely allow for that and have attracted billions of dollars of assets in just a few years. The point is the Fidelity index investor now has broad, diversified access to the global stock market with zero fees and no minimums.
Fidelity ZERO Funds List
Fidelity currently has 4 ZERO funds, all for stocks:
FNILX – Fidelity ZERO Large Cap Index Fund
This fund captures U.S. large cap stocks via the Fidelity U.S. Large Cap Index, which would be roughly comparable to the famous S&P 500. FNILX has around 500 holdings.
FZIPX – Fidelity ZERO Extended Market Index Fund
This fund seeks to track the Fidelity U.S. Extended Investable Market Index, which is composed of about 2,500 U.S. mid and small cap stocks.
FZROX – Fidelity ZERO Total Market Index Fund
This fund aims to capture the total U.S. stock market via the Fidelity U.S. Total Investable Market Index, which is likely comparable to the Russell 3000 Index. Essentially, FNILX + FZIPX = FZROX. It's comparable to something like VTI from Vanguard. This fund has close to 3,000 holdings across U.S. large, mid, and small caps.
FZILX – Fidelity ZERO International Index Fund
This fund captures international stocks outside the United States by tracking the Fidelity Global ex. U.S. Index, and is composed of about 2,500 mid and large cap stocks outside the U.S.
What's the Catch? Are There Any Downsides?
So obviously investment products with zero fees sound too good to be true and there's got be a catch, right? There are arguably a couple downsides with these funds, but they're probably not what you suspect.
Most people initially think there have to be hidden fees somewhere with these funds and that the zero expense ratio is some sort of marketing gimmick. In short, that's actually not the case. There are no hidden fees and these are truly zero cost to the investor. This line of funds is what's called a loss leader, a product sold at a loss to get you through the door so they can later cross-sell you on other products and services, such as other funds and advisory services in this case.
After considering these funds have no hidden fees, the next assumption is that they must lag their target index by an amount equal to or greater than a typical fee of a comparable fund. This one hasn't really been true so far, either, but it's worth noting that these funds track proprietary indexes created by Fidelity themselves, not household name indexes like the famous S&P 500. That's how Fidelity is able to offer them free of cost, as they don't have to pay licensing fees.
Notice, for example, how the top 5 holdings of FNILX, the Fidelity Zero Large Cap Index Fund, differ somewhat from the top holdings of VFIAX, the mutual fund from Vanguard for the S&P 500 Index:
| Name | FNILX | VFIAX |
| --- | --- | --- |
| Apple | 6.40% | 6.50% |
| Microsoft | 5.45% | 5.53% |
| Amazon | 2.45% | 2.49% |
| Alphabet Inc. Class A | 1.73% | 1.76% |
| Berkshire Hathaway Inc. Class B | 1.65% | 1.67% |
Data Source: Morningstar.com
This means the behavior of these funds will differ slightly from your favorite Vanguard index funds, for better or for worse. In some cases they have lagged their comparable counterparts and in other cases they have slightly outperformed, but the performance result is usually close enough to be largely inconsequential: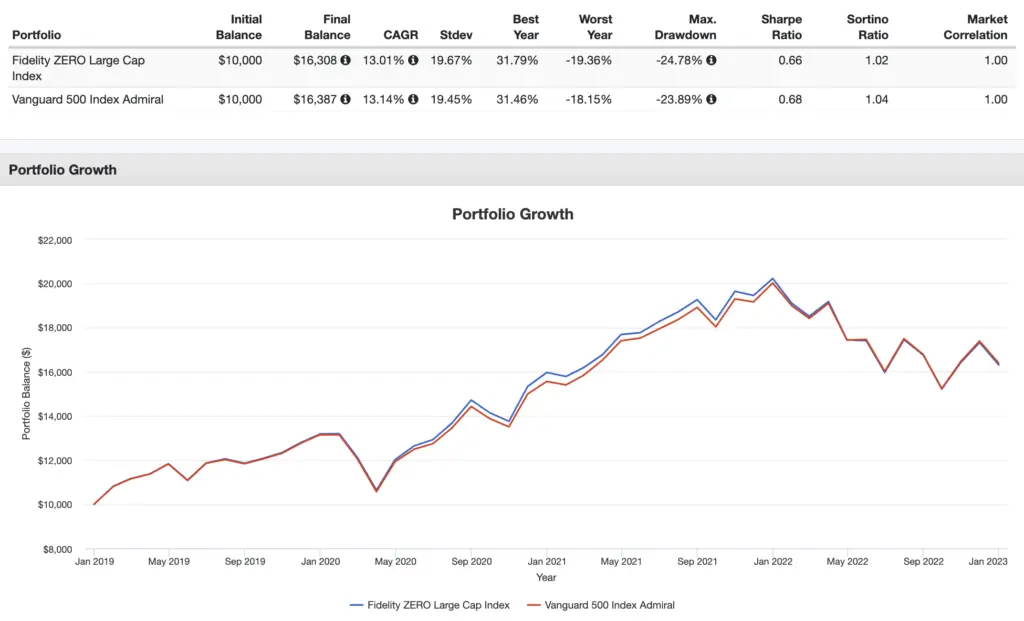 Arguably the most important catch with these funds that is perhaps often overlooked is the fact that you must buy them at Fidelity, and if you do buy them, you're stuck at Fidelity. Let me explain. If you're interested in VOO, for example, the Vanguard ETF for the S&P 500, you can buy and own it at Fidelity, Schwab, Vanguard, or others and easily transfer that ownership between them.
In owning a Fidelity ZERO fund, you own a product that tracks a proprietary index that is only available at Fidelity. If for some reason you later wanted to transfer to a different broker like Schwab or Vanguard, you wouldn't be able to take it with you and you'd thus have to sell your position and realize gains while transferring out.
So while there's nothing wrong with these products per se, I would probably shy away from them for that reason alone unless you're somehow certain you'll never leave Fidelity in the future. I've personally switched brokerages for one reason or another multiple times in a span of a little over a decade. And if I did buy one of these funds, it would definitely only be in a tax-advantaged account like an IRA.
If you're currently with another broker like Vanguard, is it worth switching to or opening a separate account at Fidelity just to get access to these ZERO funds? That's for you to decide. For $100,000 invested, 3 bps for a fund like VOO would be $30 per year. Sheer simplicity may be more valuable than those fee savings. On Fidelity's side, they have deemed it worth that $30 expense to be able to use the powerful marketing buzzwords "free" and "zero."
Another final consideration to keep in mind is that these are mutual funds that do not have ETF equivalents. If we're talking about taxable space, ETFs tend to be more tax-efficient than mutual funds, so your potential tax implications may outweigh the aforementioned fee savings.
---
What do you think of Fidelity ZERO funds? Do you own any? Let me know in the comments.
Don't want to do all this investing stuff yourself or feel overwhelmed? Check out my flat-fee-only fiduciary friends over at Advisor.com.
Disclosures:  I am long VOO and VFIAX in my own portfolio.
Interested in more Lazy Portfolios? See the full list here.
Disclaimer:  While I love diving into investing-related data and playing around with backtests, this is not financial advice, investing advice, or tax advice. The information on this website is for informational, educational, and entertainment purposes only. Investment products discussed (ETFs, mutual funds, etc.) are for illustrative purposes only. It is not a recommendation to buy, sell, or otherwise transact in any of the products mentioned. I always attempt to ensure the accuracy of information presented but that accuracy cannot be guaranteed. Do your own due diligence. I mention M1 Finance a lot around here. M1 does not provide investment advice, and this is not an offer or solicitation of an offer, or advice to buy or sell any security, and you are encouraged to consult your personal investment, legal, and tax advisors. All examples above are hypothetical, do not reflect any specific investments, are for informational purposes only, and should not be considered an offer to buy or sell any products. All investing involves risk, including the risk of losing the money you invest. Past performance does not guarantee future results. Opinions are my own and do not represent those of other parties mentioned. Read my lengthier disclaimer here.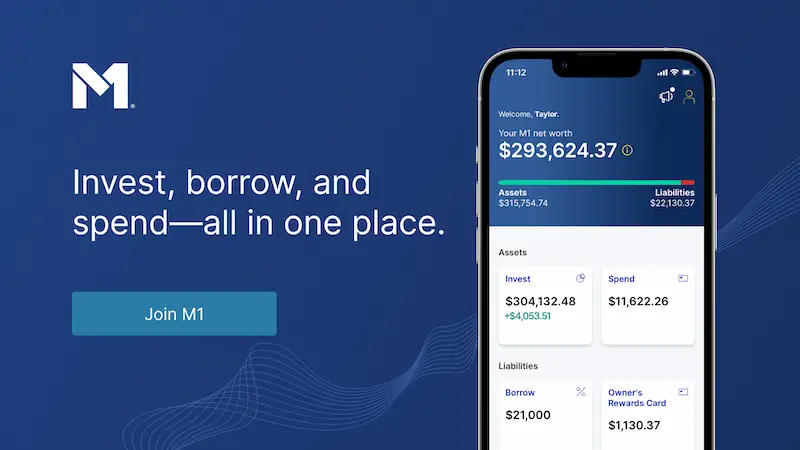 Are you nearing or in retirement? Use my link here to get a free holistic financial plan from fiduciary advisors at Retirable to manage your savings, spend smarter, and navigate key decisions.
Don't want to do all this investing stuff yourself or feel overwhelmed? Check out my flat-fee-only fiduciary friends over at Advisor.com.