We're officially in a bear market and we just saw the worst first half of the year for stocks since 1970. Here we'll check out the best stocks to buy now in 2022 while things are on sale.
Disclosure:  Some of the links on this page are referral links. At no additional cost to you, if you choose to make a purchase or sign up for a service after clicking through those links, I may receive a small commission. This allows me to continue producing high-quality, ad-free content on this site and pays for the occasional cup of coffee. I have first-hand experience with every product or service I recommend, and I recommend them because I genuinely believe they are useful, not because of the commission I get if you decide to purchase through my links. Read more here.
Prefer video? Watch it here:
So obviously a cheeky title.
Many pundits and YouTubers are putting out articles and videos discussing the "3 best stocks to buy now!" or how the world is ending and that you should sell everything. These sensationalized headlines get clicks, but hopefully I've already convinced you elsewhere that stock picking and market timing both tend to be fool's errands.
In short, the vast majority of stocks underperform the market (and it's nearly impossible to consistently pick the few that outperform), and trying to time the market tends to be more harmful than helpful. No one knows for sure what will happen with the market tomorrow, next week, or next month. Not Warren Buffett. Not Michael Burry. Not Ray Dalio. And certainly not me.
I've gotten so many questions recently about how I'm altering my strategy to deal with the current environment. I'm not. And that's the point. Many seem to need a sobering reminder of rationality to stay the course and take a long term view. Sir John Templeton reminded us in 1933 that the 4 most dangerous words in investing are "this time is different."
Now is the time when emotions are tested. If you feel the need to abandon ship or change your strategy, then by definition it did not align with your tolerance for risk in the first place, as risk tolerance is the point at which one is tempted to make such a change based on current market conditions. Jack Bogle, the father of index investing, admonished investors to "stand there and do nothing."
I'm writing this in July, 2022 when the S&P 500 is down roughly 20% YTD, but the principle is timeless. They may sound platitudinous at this point, but the usual reminders ring true now more than ever:
Establish a healthy emergency fund.
Choose a strategy and asset allocation that fit your personal goals, time horizon, and risk tolerance.
Diversify broadly.
Invest early and often.
Stay the course, and ignore the short-term noise.
Hopefully now you realize that these are not empty, meaningless phrases that I repeat ad nauseam just for fun.
As Bernstein points out, young investors should rejoice over bear markets like these early in their investing horizon because they're able to pick up shares at a lower cost basis while they're on sale. Unless you're at or near retirement, this should be your mindset.
In other words, if you have a long time horizon (and are still reliably employed), you should be buying assets just as you normally would with your regular paychecks. No more and no less. The current market turmoil should not change the dollar amounts you are regularly investing.
As usual, the best stocks to buy right now – and anytime – are the 9,116 found in a single global market index fund. That's the current number of holdings in VT, the Vanguard Total World Stock ETF.
---
Disclaimer:  While I love diving into investing-related data and playing around with backtests, this is not financial advice, investing advice, or tax advice. The information on this website is for informational, educational, and entertainment purposes only. Investment products discussed (ETFs, mutual funds, etc.) are for illustrative purposes only. It is not a recommendation to buy, sell, or otherwise transact in any of the products mentioned. I always attempt to ensure the accuracy of information presented but that accuracy cannot be guaranteed. Do your own due diligence. I mention M1 Finance a lot around here. M1 does not provide investment advice, and this is not an offer or solicitation of an offer, or advice to buy or sell any security, and you are encouraged to consult your personal investment, legal, and tax advisors. All examples above are hypothetical, do not reflect any specific investments, are for informational purposes only, and should not be considered an offer to buy or sell any products. All investing involves risk, including the risk of losing the money you invest. Past performance does not guarantee future results. Opinions are my own and do not represent those of other parties mentioned. Read my lengthier disclaimer here.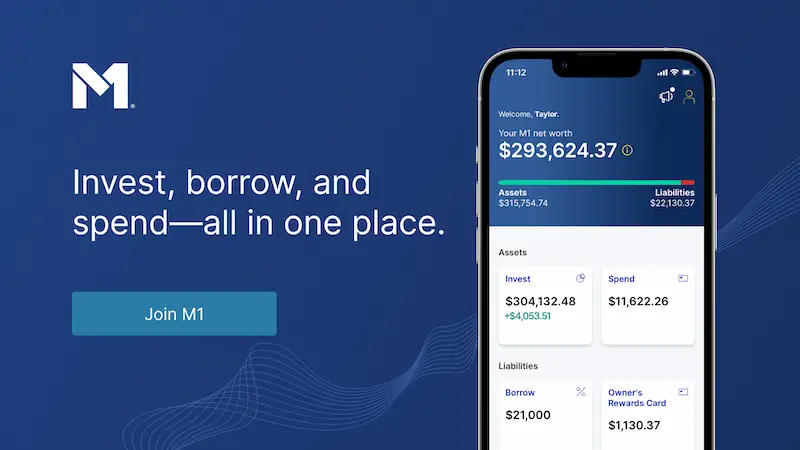 Are you nearing or in retirement? Use my link here to get a free holistic financial plan from fiduciary advisors at Retirable to manage your savings, spend smarter, and navigate key decisions.
Don't want to do all this investing stuff yourself or feel overwhelmed? Check out my flat-fee-only fiduciary friends over at Advisor.com.