M1 Finance users are constantly asking if or when the platform is adding crypto trading. It may finally be happening.
Update – July, 2022: M1 announced this month that they will indeed soon be offering crypto. You can read more about it here.
Disclosure:  Some of the links on this page are referral links. At no additional cost to you, if you choose to make a purchase or sign up for a service after clicking through those links, I may receive a small commission. This allows me to continue producing high-quality, ad-free content on this site and pays for the occasional cup of coffee. I have first-hand experience with every product or service I recommend, and I recommend them because I genuinely believe they are useful, not because of the commission I get if you decide to purchase through my links. Read more here.
Crypto is the hot asset right now. Bitcoin in particular is obviously all the rage. But most brokers don't allow users to directly buy and sell cryptocurrency. It's somewhat of a different animal compared to your "traditional" assets like stocks and ETFs.
M1 Finance is a modern brokerage and holistic finance suite geared toward a younger, more tech savvy audience (I wrote a comprehensive review of the platform here), so it's only natural that its users are eager to seamlessly trade crypto. M1 recently published a job posting on its website for a Technical Product Manager of Crypto, clearly indicating that the company is at least getting the wheels turning in thinking about and laying the groundwork for crypto trading. Here's the description:
Key product stakeholder in M1's Digital/ Cryptocurrency and Alternative asset strategy and vision with primary responsibility for product implementation and delivery, including:

Planning, developing, and launching new Digital asset/ Cryptocurrency experiences and workflows w/ in M1's holistic framework
Evaluate third-party vendors capabilities, product offerings and identify competitive advantages and dependencies
Inform development of Core crypto trading and allocation capabilities experiences and address related fiat Money movements and payments capabilities.
Discovery for additional products for crypto (e.g., lending, staking, DeFi)
Advisory and product support for cross platform constituencies and tooling and automation for operations functions

Build a deep and comprehensive understanding of Crypto systems, processes, and partners, how they all fit together and integrate within the overall M1 platform.
Support a cross-functional team of product managers, engineers, designers, and user researchers throughout the product lifecycle.
Work with product design and research to identify, design, validate, and launch simple, iterative and impactful product that resonates with customers.
Trusted partner to and enabler of technology. Big picture and ability to answer detailed, day-to-day product questions from engineers to guide build and implementation
Gather technical requirements, create specifications and workflow documents for product and feature release/ deployment.
Define, measure, and report on progress, status and product KPIs to leadership and stakeholders, while continuously measuring the effectiveness of the team efforts.
Develop tools and processes to improve team efficiency and speed
The job description provides a few useful nuggets of information:
It sounds like crypto and digital assets will be a new product offering, of which the "experiences and workflows" will fit inside "M1's holistic framework," as we would probably expect.
The feature set will be above and beyond simply buying and selling crypto; the description mentions "additional products for crypto (e.g., lending, staking, DeFi)."
The new product will have a dedicated team of engineers, designers, and researchers.
Something to note is that M1 is a long-term investing platform and is explicitly not for day trading, and crypto seems to lend itself to a short term trading mindset. Cryptocurrencies also have extremely volatile prices. So it will be interesting to see how exactly crypto is incorporated into M1's broader suite of investing and finance tools.
Moreover, will the premium M1 Plus account option be tied to crypto somehow? Maybe only M1 Plus users can access crypto. Maybe they'll get more or longer trading windows. It would be really cool if an allocation to crypto can be seamlessly inserted into pies.
We can only speculate, but the addition of crypto and digital assets will certainly be a game changer for M1 Finance in terms of the expansion of its user base, as both prospective and existing users have been asking for it for a while. At this point, M1 users must either access crypto through an ETF or through a 3rd-party wallet like Coinbase.
What do you think about the prospect of M1 Finance offering crypto? Let me know in the comments.
Update – July, 2022: M1 announced this month that they will indeed soon be offering crypto. You can read more about it here.
M1 Finance currently has an account transfer promotion to earn up to $15,000 as outlined below:
M1 also currently has a promotion for up to $500 when initially funding an investment account: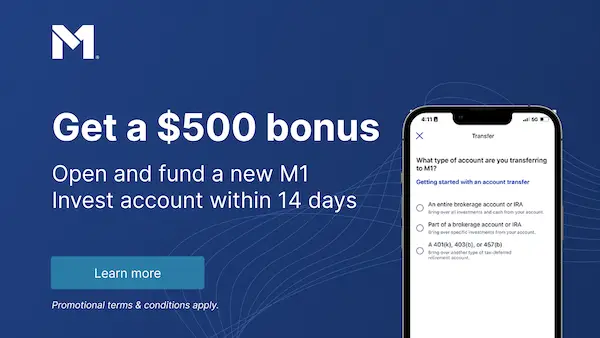 ---
Interested in more Lazy Portfolios? See the full list here.
Disclaimer:  While I love diving into investing-related data and playing around with backtests, this is not financial advice, investing advice, or tax advice. The information on this website is for informational, educational, and entertainment purposes only. Investment products discussed (ETFs, mutual funds, etc.) are for illustrative purposes only. It is not a recommendation to buy, sell, or otherwise transact in any of the products mentioned. I always attempt to ensure the accuracy of information presented but that accuracy cannot be guaranteed. Do your own due diligence. All investing involves risk, including the risk of losing the money you invest. Past performance does not guarantee future results. Opinions are my own and do not represent those of other parties mentioned. Read my lengthier disclaimer here.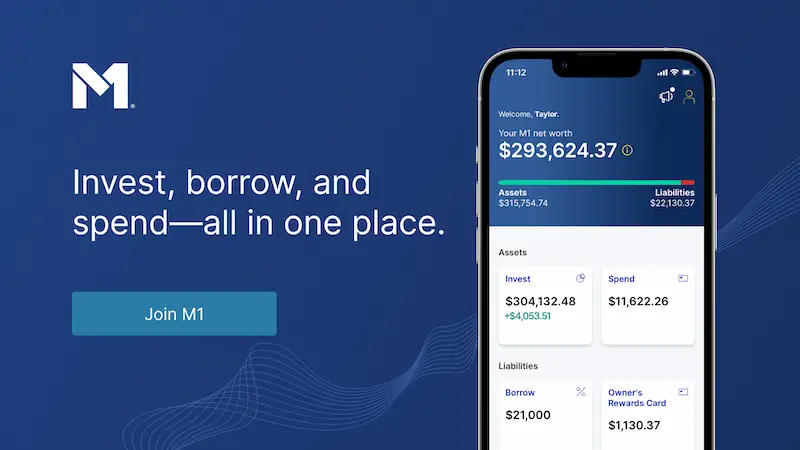 Are you nearing or in retirement? Use my link here to get a free holistic financial plan from fiduciary advisors at Retirable to manage your savings, spend smarter, and navigate key decisions.
Don't want to do all this investing stuff yourself or feel overwhelmed? Check out my flat-fee-only fiduciary friends over at Advisor.com.