M1 Finance uses a single morning trading window per day, with an optional afternoon trading window. Here we'll discuss the details surrounding this characteristic of the modern broker.
Disclosure:  Some of the links on this page are referral links. At no additional cost to you, if you choose to make a purchase or sign up for a service after clicking through those links, I may receive a small commission. This allows me to continue producing high-quality, ad-free content on this site and pays for the occasional cup of coffee. I have first-hand experience with every product or service I recommend, and I recommend them because I genuinely believe they are useful, not because of the commission I get if you decide to purchase through my links. Read more here.
M1 Finance, being a platform specifically designed for long-term, buy-and-hold investing, has one single trading window per day. This means any orders you put in are executed the following day at market open. All trades for users' accounts are made during this daily window. This "batching" of orders allows M1 to cut costs and pass those savings on to the investor. M1 has no account fees or transaction fees.
Any long-term investor should not be concerned about intraday price changes. Over one's investing horizon of 30+ years, the result of these intraday differences will be negligible. I view this single trading window as a benefit. It prevents the investor from making any emotional, short-term trades, thereby curbing behaviors like market timing, which is usually more harmful than helpful. Traders wanting to attempt to capitalize on short-term market movement should not be using M1.
The daily trading window for M1 is at 9:30am EST every day, when the NYSE opens. This window stays open until all orders for the day have been executed. Any orders placed after that window will be executed during the following day's trading window. Changes made to portfolios before 9:30am EST will be executed that same day.
M1 Finance has a premium member option called M1 Plus that gets you access to a second afternoon trading window at 3pm EST, as well as cheaper margin and Smart Transfers. This allows you to make any deposits or changes between 9:30am EST and 3pm EST that will be executed the same day. For those M1 Plus members with less than $25,000 in their account, they can use either trading window. Those with an account value of at least $25,000 can use both trading windows, as outlined below: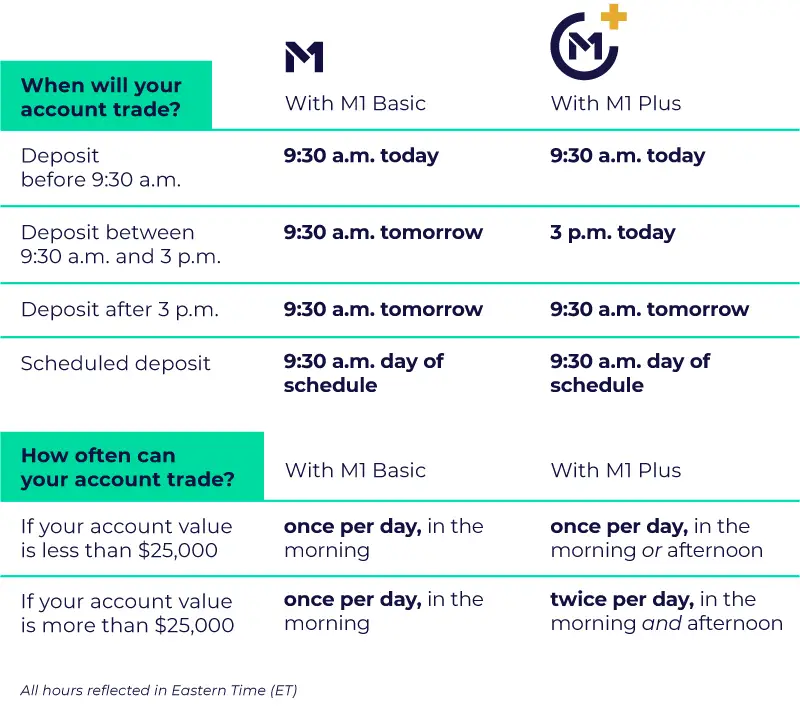 M1 Finance currently has an account transfer promotion to earn up to $15,000 as outlined below:
M1 also currently has a promotion for up to $500 when initially funding an investment account: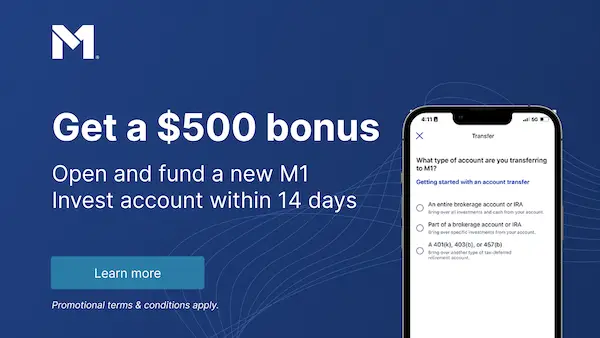 ---
Disclaimer:  While I love diving into investing-related data and playing around with backtests, this is not financial advice, investing advice, or tax advice. The information on this website is for informational, educational, and entertainment purposes only. Investment products discussed (ETFs, mutual funds, etc.) are for illustrative purposes only. It is not a recommendation to buy, sell, or otherwise transact in any of the products mentioned. I always attempt to ensure the accuracy of information presented but that accuracy cannot be guaranteed. Do your own due diligence. All investing involves risk, including the risk of losing the money you invest. Past performance does not guarantee future results. Opinions are my own and do not represent those of other parties mentioned. Read my lengthier disclaimer here.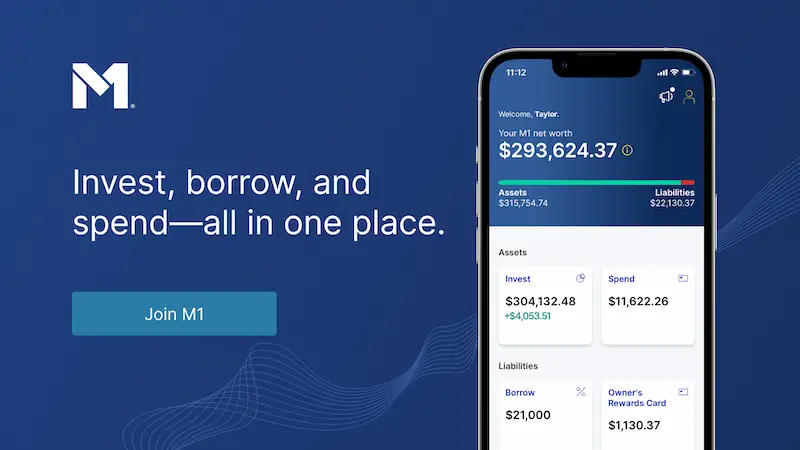 Are you nearing or in retirement? Use my link here to get a free holistic financial plan from fiduciary advisors at Retirable to manage your savings, spend smarter, and navigate key decisions.
Don't want to do all this investing stuff yourself or feel overwhelmed? Check out my flat-fee-only fiduciary friends over at Advisor.com.