ETF. ETN. ETP. So many initialisms. Here we'll explore what these things are and what differences exist among them.
Disclosure:  Some of the links on this page are referral links. At no additional cost to you, if you choose to make a purchase or sign up for a service after clicking through those links, I may receive a small commission. This allows me to continue producing high-quality, ad-free content on this site and pays for the occasional cup of coffee. I have first-hand experience with every product or service I recommend, and I recommend them because I genuinely believe they are useful, not because of the commission I get if you decide to purchase through my links. Read more here.
Video
Prefer video? Watch it here:
ETF vs. ETN vs. ETP – What Do the Letters Mean?
First, here's what these initialisms stand for:
ETF – Exchange Traded Fund
ETN – Exchange Traded Note
ETP – Exchange Traded Product
Secondly, I created this crude Venn diagram to illustrate the relationship among them: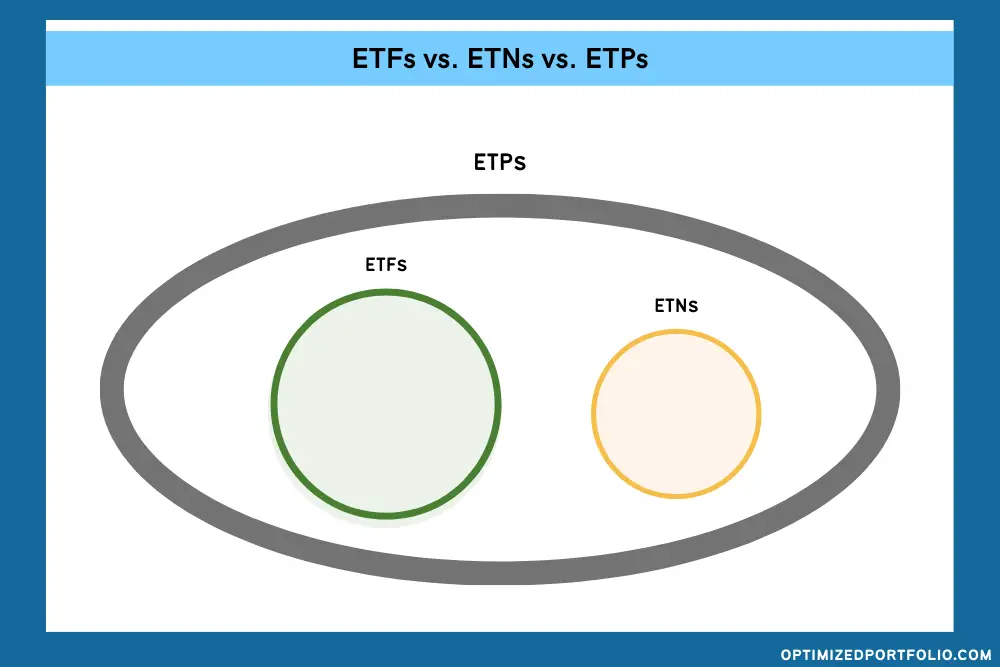 Basically, ETP describes all exchange-traded products, which includes ETFs and ETNs. So ETFs and ETNs are just two types of ETPs. Put another way, all ETFs are ETPs, but not all ETPs are ETFs. Say that 5 times fast.
ETF vs. ETN – Similarities, Differences, and Risks
You've probably heard of ETFs. They're very popular. They almost always track some index (index funds), such as the famous S&P 500. ETFs are an alternative to mutual funds, and are quickly replacing mutual funds. In buying an ETF, you're buying a fund that holds the assets from the index it tracks. As the name suggests, ETFs trade on exchanges just like stocks.
ETNs are less prevalent and less popular. They are a relatively new product; they were first created in 2006. Like ETFs, ETNs trade on an exchange, track some index, and usually have lower fees than an actively managed fund. Unlike ETFs, however, ETNs are unsecured debt instruments. You can remember this if you think of the word "note" as a piece of paper.
Think of an ETN like a corporate bond. This means the ETN is issued by some institution, which carries what we call counterparty risk. This is the main difference between ETFs and ETNs that investors pay attention to. Essentially, if the issuer of the ETN goes under, there's a chance you could lose all the money you put into it, whereas with an ETF, the shares would simply be liquidated at their market value. With the ETF, you still own the underlying assets. With the ETN, there are no assets. Also, since ETNs are less popular, there may be liquidity risk as well; all things being equal, an ETF will likely be easier to sell than an ETN.
ETNs do have some arguably advantages, though. They don't buy or sell any underlying assets like ETFs do and they don't have dividends or distributions, so there are no taxes or trading costs associated. The investor only incurs taxes upon selling the ETN. Moreover, since an ETN doesn't hold the assets, it doesn't have tracking error like ETFs do. Tracking error means the difference in price movement between the ETF and its index.
You may run into an asset – like gold, for example – where only ETNs are available. ETNs are commonly seen for things like commodities and currencies that are harder for retail investors to buy directly.This is why they were invented in the first place. Just know that in buying an ETN, you are taking on extra counterparty risk in that you are subject to the credit rating of the issuer, so while it's rare, there exists a non-zero probability of default. Always check out the trading volume of an ETN and the credit rating of its issuer before buying one.
As you can see, ETNs are a bit more complicated than ETFs. ETFs are easier to understand. Simplicity in portfolios is extremely valuable, particularly for new investors, so you should probably usually stick with ETFs whenever possible. Basically, only buy an ETN if it is the only product available for the asset you want.
---
Interested in more Lazy Portfolios? See the full list here.
Disclaimer:  While I love diving into investing-related data and playing around with backtests, this is not financial advice, investing advice, or tax advice. The information on this website is for informational, educational, and entertainment purposes only. Investment products discussed (ETFs, mutual funds, etc.) are for illustrative purposes only. It is not a recommendation to buy, sell, or otherwise transact in any of the products mentioned. I always attempt to ensure the accuracy of information presented but that accuracy cannot be guaranteed. Do your own due diligence. All investing involves risk, including the risk of losing the money you invest. Past performance does not guarantee future results. Opinions are my own and do not represent those of other parties mentioned. Read my lengthier disclaimer here.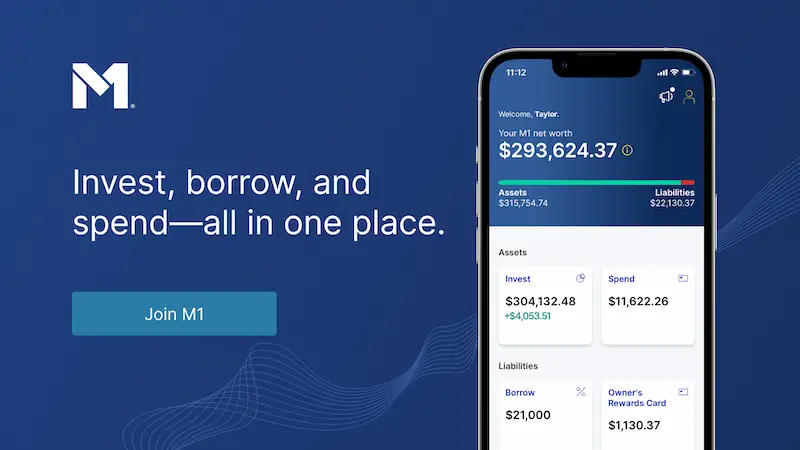 Are you nearing or in retirement? Use my link here to get a free holistic financial plan from fiduciary advisors at Retirable to manage your savings, spend smarter, and navigate key decisions.
Don't want to do all this investing stuff yourself or feel overwhelmed? Check out my flat-fee-only fiduciary friends over at Advisor.com.