Tesla may be the most disruptive company in the past decade. Below are the steps for how to invest in Tesla stock with as little as $100.
Disclosure:  Some of the links on this page are referral links. At no additional cost to you, if you choose to make a purchase or sign up for a service after clicking through those links, I may receive a small commission. This allows me to continue producing high-quality, ad-free content on this site and pays for the occasional cup of coffee. I have first-hand experience with every product or service I recommend, and I recommend them because I genuinely believe they are useful, not because of the commission I get if you decide to purchase through my links. Read more here.
Introduction – Why Invest in Tesla?
The name of the company is fitting, as Elon Musk is basically a modern-day Nikola Tesla. He and his companies have continued to massively disrupt several largely disconnected industries including automobiles, space travel, and more. Tesla cars specifically continue to beat expectations in terms of number sold and delivered. As the adoption of electric, zero-emissions vehicles and clean energy tech grows, so too should Tesla's sales and availability to the market, driven further by the phasing out of fossil fuels. Federal tax credits and subsidies are a cherry on top for Tesla's earnings and profitability.
CEO Elon Musk has claimed he wants to continue rapidly advancing and expanding the manufacturing of electric vehicles, including specifically expanding its model offerings, likely surpassing other automakers in the next decade. Simultaneously, battery technology continues to improve year after year, reducing both weight and costs for Tesla vehicles. Tesla is also at the forefront of autonomous driving and is making massive advances there as well, the technology for which can be sold as a product itself to other automakers. Further, Tesla has also been expanding its service center and charging station network and even crushed analysts' expectations for its recent rollout in China. Tesla also has some oft-forgotten complementary side hustles like energy storage, solar panels, large trucks, and more. It's growth all around for the company.
Millennials and young investors particularly are drawn to both Tesla's stock and its cars, similar to the loyalty of Apple customers. Novice traders have gotten in the high volatility of the stock in recent years, for better or worse. Analysts – including Catherine Wood and the famous Ark Investment Group – are extremely bullish on both electric vehicles as a whole and on autonomous driving technology, both of which are Tesla's bread and butter. Tesla's approach in these areas seems to be far ahead of traditional automakers like Ford, Toyota, etc.
Much of the inherent valuation of the company's stock is tied to its eccentric CEO Elon Musk and his innovation. Perhaps most importantly, S&P Global announced in November 2020 that Tesla would become a part of the S&P 500, a famous index of the 500 largest companies in the United States. This news comes at a great time, considering Tesla's consistent earnings growth in recent months.
Tesla stock has soared since the company went public in 2010, massively outpacing the broader market. It is one of the most highly traded stocks, as the share price tends to move considerably based on earnings announcements, press releases, etc. Here is a backtest showing how Tesla has compared to the broader market since 2010: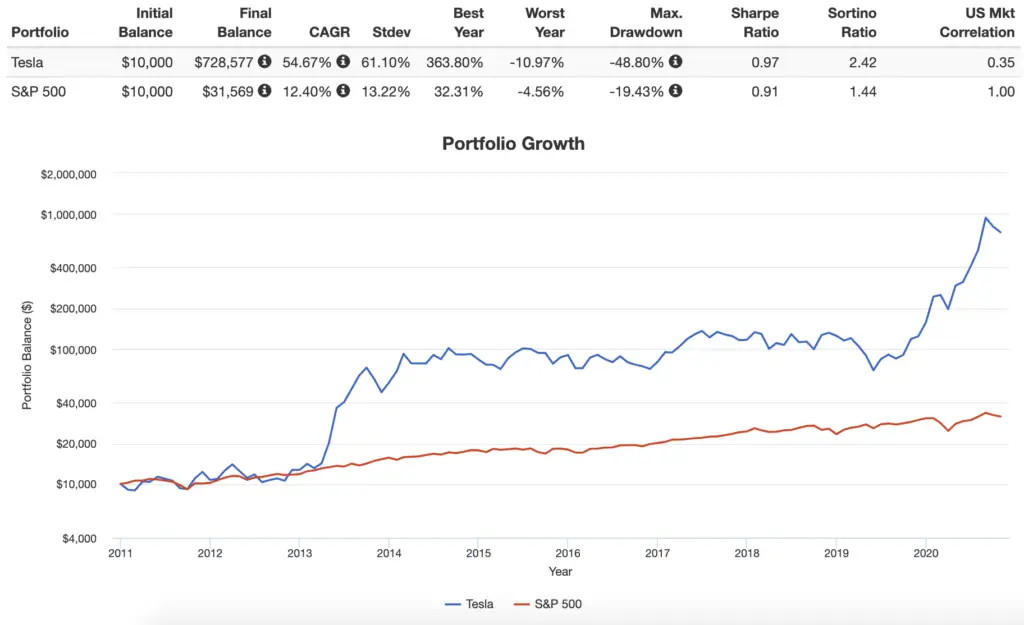 How to Buy Tesla Stock
First you'll need an account with a broker if you don't already have one. I'd suggest M1 Finance. M1 has zero fees and zero trade commissions and offers automatic rebalancing, fractional shares, and a sleek, user-friendly interface and mobile app. I wrote a comprehensive review of M1 Finance here.
At the time of writing, a single share of Tesla stock is slightly shy of $500. Fractional shares allow you to use M1's account minimum deposit ($100) to buy roughly 1/5 of a share of Tesla, allowing every penny to go to work for you. After the initial $100 deposit when opening a new account, you can buy new fractional shares of stock in the future whenever your cash balance reaches at least $25.
Opening an account with a brokerage will only take about 10 minutes. After that you can connect your bank account to deposit money into your investment account. Then just type in what's called the ticker symbol – the unique identifying abbreviation for the stock – for Tesla (TSLA) and place the buy order with just a few clicks. It's that simple! You can obviously buy Tesla alongside other stocks in your portfolio, or invest entirely in Tesla if you want to.
Take note of how investing in Tesla will fit into your larger portfolio. For example, if you don't have a lot of exposure to automotive or clean energy tech stocks, Tesla becomes an even better investment choice to diversify your holdings.
How To Invest in Tesla Stock – Quick Steps
To recap:
Sign up for a new account with an online brokerage like M1 Finance.
Connect your bank and fund your brokerage account.
Enter the ticker symbol – TSLA – or the company name to locate the stock.
Place the buy order. You're done! You can now call yourself a Tesla shareholder.
---
Disclaimer:  While I love diving into investing-related data and playing around with backtests, this is not financial advice, investing advice, or tax advice. The information on this website is for informational, educational, and entertainment purposes only. Investment products discussed (ETFs, mutual funds, etc.) are for illustrative purposes only. It is not a recommendation to buy, sell, or otherwise transact in any of the products mentioned. I always attempt to ensure the accuracy of information presented but that accuracy cannot be guaranteed. Do your own due diligence. All investing involves risk, including the risk of losing the money you invest. Past performance does not guarantee future results. Opinions are my own and do not represent those of other parties mentioned. Read my lengthier disclaimer here.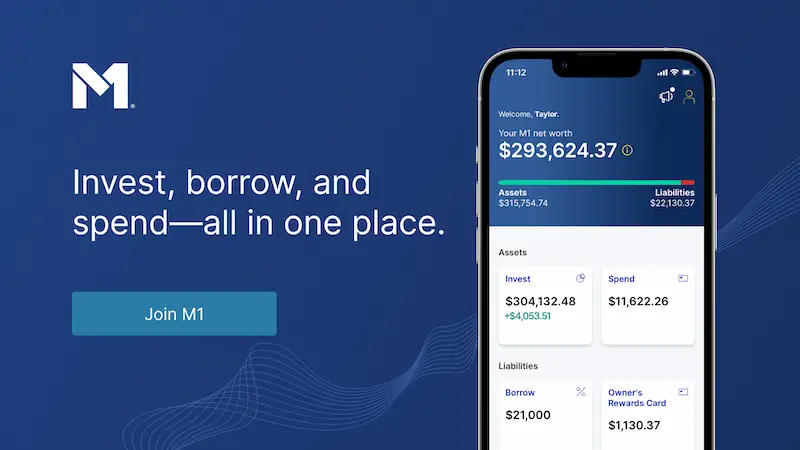 Are you nearing or in retirement? Use my link here to get a free holistic financial plan from fiduciary advisors at Retirable to manage your savings, spend smarter, and navigate key decisions.
Don't want to do all this investing stuff yourself or feel overwhelmed? Check out my flat-fee-only fiduciary friends over at Advisor.com.