Blockchain is heavily associated with cryptocurrency but is also used in investing, banking, and more. Here we'll check out the best blockchain ETFs for 2023.
Disclosure:  Some of the links on this page are referral links. At no additional cost to you, if you choose to make a purchase or sign up for a service after clicking through those links, I may receive a small commission. This allows me to continue producing high-quality, ad-free content on this site and pays for the occasional cup of coffee. I have first-hand experience with every product or service I recommend, and I recommend them because I genuinely believe they are useful, not because of the commission I get if you decide to purchase through my links. Read more here.
Introduction – Why Blockchain ETFs?
Blockchain is a relatively new technology used not only for cryptocurrencies but also in investing, banking, supply chain management, and more. Blockchain just refers to a decentralized ledger of transactions, stored as informational "blocks." Decentralized means it's not stored in any single location. This information is spread across the network of participants and is publicly viewable and incorruptible. The collective ledger is updated when a transaction occurs, and is instantly viewable across the network, ensuring transparency and trust.
Blockchain is used and supported by household names like IBM, Oracle, and Visa. Blockchain ETFs provide diversification across different companies involved in blockchain technology. For those worried about the famous volatility of the crypto market, note that blockchain is not cryptocurrency and cryptocurrency is not blockchain. Here we're mostly talking about large blue chip companies.
Let's explore the best blockchain ETFs.
The 4 Best Blockchain ETFs
The blockchain ETFs below differ in scope, cap size, geographical concentration, selection methodology, and costs.
BLOK – Amplify Transformational Data Sharing ETF
BLOK is by far the most popular blockchain ETF. It's also the oldest, though only by a month or so, and the best-performing. The fund has amassed over $1.1 billion in assets in its short lifetime since it launched in January 2018. BLOK comes from Amplify, the same folks who made SWAN.
This makes sense, as BLOK is probably the purest blockchain play on this list; most of the fund's assets are invested in companies that actively develop and utilize blockchain technology. Specifically, BLOK is an actively managed fund that selects 70% of its holdings from companies with revenue directly from developing or deploying data sharing technologies, and 30% from firms that have partnered with or invested in such firms.
Active management may actually be a benefit in this highly volatile, constantly-evolving space, as funds must be nimble to adapt and respond to market changes. Index funds will lag such changes.
BLOK provides geographical diversification, with only about half of its holdings in the U.S., and heavily skews small-cap. This fund has far outperformed the broader market – and the other funds on this list – since inception. Its expense ratio is 0.70%. BLOK would probably be my choice out of all blockchain ETFs available.
BLCN – Reality Shares Nasdaq NexGen Economy ETF
BLCN seeks to track the Siren NASDAQ Blockchain Economy Index, composed of companies around the world involved in developing, researching, or using blockchain technologies. BLCN ranks holdings by expected benefit from blockchain technology. The fund has about $300 million in assets and a fee of 0.68%.
BLCN heavily skews large cap, the opposite of BLOK above. BLOK has outperformed BLCN historically but with greater volatility.
LEGR – First Trust Indxx Innovative Transaction & Process ETF
LEGR from First Trust was launched at the same time as BLOK in early 2018, but has only reached about $75 million in assets. LEGR skews even more large cap than BLCN, and is mostly international (ex-US) stocks. Its performance has nearly matched the S&P 500 historically, which may explain why it hasn't attracted more investors.
In terms of selection methodology, LEGR slightly differs from BLCN in that it weights holdings based on how active they are in blockchain technology.
LEGR has an expense ratio of 0.65%.
KOIN – CapitalLink NextGen Protocol ETF
While KOIN sounds like it's crypto, it seeks to track the ATFI Global NextGen Fintech Index, providing "the performance of diversified exposure to companies that use or are involved in the innovations of fintech technology," divided into two segments:
"Companies that use technology to increase operational sciences, optimize settlement processes, enhance the customer experience, increase data security/integrity and create digital assets."
"Companies that assist financial services businesses & organizations in the adoption and implementation of the latest technologies and applications."
KOIN tilts to the U.S. at about 65% and skews large caps at about 95%. Notable top 10 holdings include Microsoft, Amazon, Paypal, Intel, and more. KOIN is inarguably broader in financial tech than the other ETFs above, and is not at all a pure blockchain play. Quite the opposite in fact, due largely to its market cap weighting. The fund issuer themselves note that KOIN "may have minimal ties to blockchain." Um, what? This wider net and the top holdings make me question the purpose of the fund in the first place; it's basically a very expensive large cap growth fund.
Investors have taken note. KOIN has only attracted about $25 million in assets and has the highest fee on this list of 0.95%. Given these facts, I can say I definitely wouldn't choose KOIN out of the funds on this list.
Where to Buy These Blockchain ETFs
All these blockchain ETFs should be available at any major broker. My choice is M1 Finance. The broker has zero trade commissions and zero account fees, and offers fractional shares, dynamic rebalancing, and a modern, user-friendly interface and mobile app. I wrote a comprehensive review of M1 Finance here.
---
Interested in more Lazy Portfolios? See the full list here.
Disclaimer:  While I love diving into investing-related data and playing around with backtests, this is not financial advice, investing advice, or tax advice. The information on this website is for informational, educational, and entertainment purposes only. Investment products discussed (ETFs, mutual funds, etc.) are for illustrative purposes only. It is not a recommendation to buy, sell, or otherwise transact in any of the products mentioned. I always attempt to ensure the accuracy of information presented but that accuracy cannot be guaranteed. Do your own due diligence. I mention M1 Finance a lot around here. M1 does not provide investment advice, and this is not an offer or solicitation of an offer, or advice to buy or sell any security, and you are encouraged to consult your personal investment, legal, and tax advisors. All examples above are hypothetical, do not reflect any specific investments, are for informational purposes only, and should not be considered an offer to buy or sell any products. All investing involves risk, including the risk of losing the money you invest. Past performance does not guarantee future results. Opinions are my own and do not represent those of other parties mentioned. Read my lengthier disclaimer here.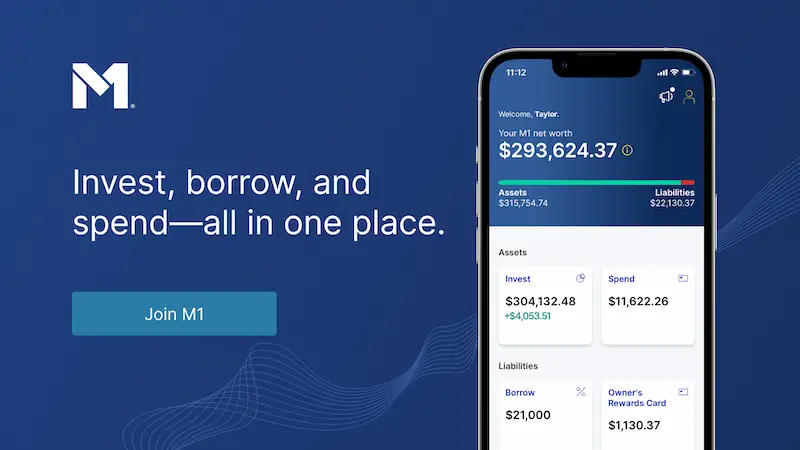 Are you nearing or in retirement? Use my link here to get a free holistic financial plan from fiduciary advisors at Retirable to manage your savings, spend smarter, and navigate key decisions.
Don't want to do all this investing stuff yourself or feel overwhelmed? Check out my flat-fee-only fiduciary friends over at Advisor.com.