Small-cap value stocks have beaten every other segment of the market historically. Below we'll explore the 3 best international small cap value ETFs for 2023.
Disclosure:  Some of the links on this page are referral links. At no additional cost to you, if you choose to make a purchase or sign up for a service after clicking through those links, I may receive a small commission. This allows me to continue producing high-quality, ad-free content on this site and pays for the occasional cup of coffee. I have first-hand experience with every product or service I recommend, and I recommend them because I genuinely believe they are useful, not because of the commission I get if you decide to purchase through my links. Read more here.
Introduction – International Small Cap Value
I delved into the glamor of small cap value previously here and I discussed factor investing here. I won't repeat those lengthy details here; check out those posts if you want to read them. In summary, small-cap value stocks have beaten every other style and cap size of stocks historically thanks to what we know as the Size and Value risk factor premiums.
In specifically targeting international small cap value, we (as U.S. investors) are aiming to diversify that factor exposure across geographies, as the premiums thereof may show up during different time periods. For those accustomed to low-cost index funds below 10 basis points, go ahead and note that this targeted exposure doesn't come cheap, but we're implicitly expecting that the factor premia will more than make up for the associated fee over the long term.
Below are the 3 best international small cap value ETFs to get exposure to those factor premia in ex-US stocks.
DGS – WisdomTree Emerging Markets SmallCap Dividend Fund
The first thing you'll notice is that the name of this fund doesn't even include the word "value." That's because prior to the launch of one of the funds we'll discuss below, dividend-oriented funds like this one were the best proxy to access the Value factor in international small cap stocks. In this case, we're talking about small cap value within Emerging Markets specifically, which have a correlation to U.S. small cap value stocks of about 0.70 at the time of writing.
WisdomTree employs some liquidity screens to exclude stocks that aren't investable, so the holdings are not as small as we'd ideally like to see. These screens – and the fund's weighting scheme by dividend yield – also end up causing the fund to be concentrated in a small handful of countries, namely Taiwan, Hong Kong, Korea, India, and Thailand, which make up roughly 75% of the fund's assets.
However, investors have taken note of this fund's exposure to the Value factor. DGS has nearly $2 billion in assets and an expense ratio of 0.63%.
DLS – WisdomTree International SmallCap Dividend Fund
DLS is the Developed Markets counterpart to DGS above. The fund aims to hold high-quality small cap dividend stocks in Developed Markets outside the U.S. and Canada.
This fund's stocks are comparatively even larger than DGS above, and while DGS and DLS have had similar Value factor exposure, DLS's loading on the Profitability factor has been lower than that of DGS. The stocks in DLS are also slightly more correlated to U.S. small cap value compared to DGS. Because of those reasons, I'd take DGS over DLS.
Similar to DGS, DLS ends up being concentrated in just a few countries, namely Japan, the UK, and Australia, which comprise over half of the fund's assets.
This fund has nearly $1.5 billion in assets and an expense ratio of 0.58%.
AVDV – Avantis International Small Cap Value ETF
Avantis is a relatively new asset management firm started by a few former employees of Dimensional Fund Advisors, the long-time gold standard of factor funds. Don't let that make you nervous. The few funds Avantis has launched have absolutely surged in popularity right from the start, and they have a very strong track record in their short lifespan so far.
AVDV is essentially the only fund available to the public that specifically aims to target factor exposure within international small cap stocks. AVDV looks for the smallest, cheapest international stocks with strong financials, providing exposure to the Size, Value, and Profitability factors. Notably, AVDV's loading on Size is considerably greater than DGS and DLS above, meaning it's holding smaller stocks, at least so far.
As an added bonus, AVDV is cheaper than the above two funds with a fee of 0.36%.
In its short lifespan since late 2019, AVDV has outperformed DGS and DLS: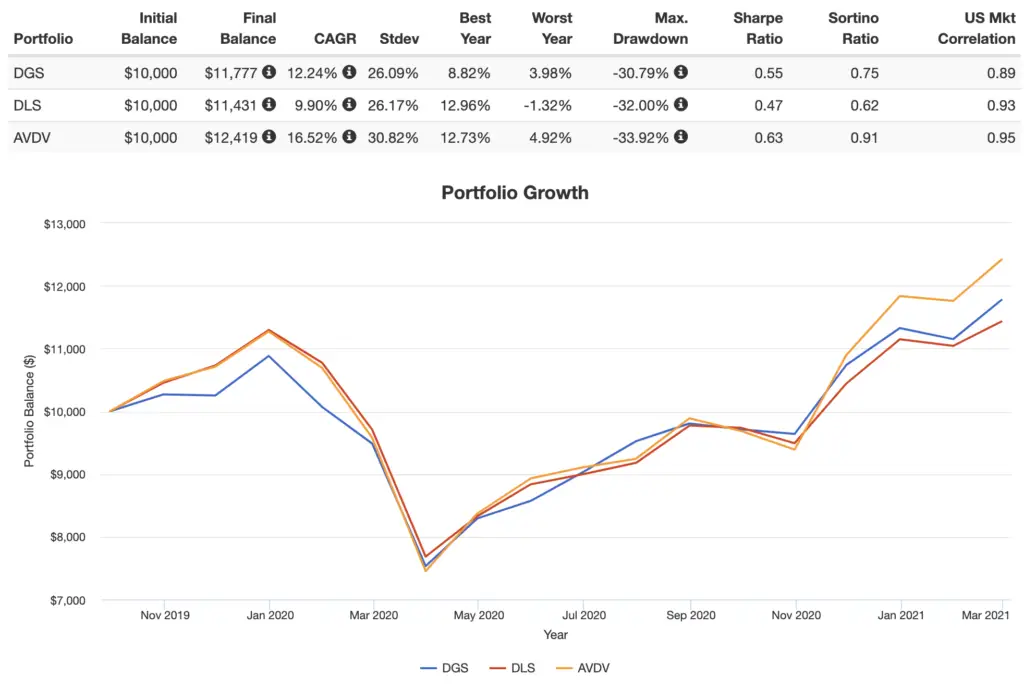 Where to Buy These International Small Cap Value ETFs
All these international small cap value ETFs should be available at any major broker. My choice is M1 Finance. M1 has zero trade commissions and zero account fees, and offers fractional shares, dynamic rebalancing, and a sleek, user-friendly interface and mobile app. I wrote a comprehensive review of M1 Finance here.
---
Disclosures:  I am long AVDV.
Interested in more Lazy Portfolios? See the full list here.
Disclaimer:  While I love diving into investing-related data and playing around with backtests, this is not financial advice, investing advice, or tax advice. The information on this website is for informational, educational, and entertainment purposes only. Investment products discussed (ETFs, mutual funds, etc.) are for illustrative purposes only. It is not a recommendation to buy, sell, or otherwise transact in any of the products mentioned. I always attempt to ensure the accuracy of information presented but that accuracy cannot be guaranteed. Do your own due diligence. All investing involves risk, including the risk of losing the money you invest. Past performance does not guarantee future results. Opinions are my own and do not represent those of other parties mentioned. Read my lengthier disclaimer here.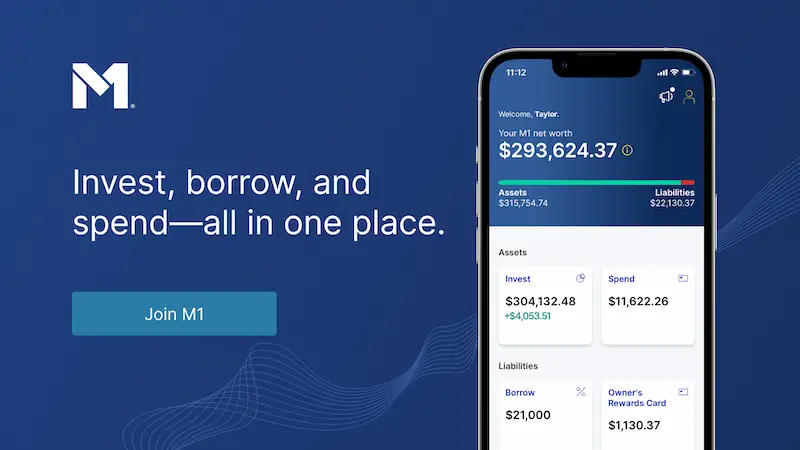 Are you nearing or in retirement? Use my link here to get a free holistic financial plan from fiduciary advisors at Retirable to manage your savings, spend smarter, and navigate key decisions.
Don't want to do all this investing stuff yourself or feel overwhelmed? Check out my flat-fee-only fiduciary friends over at Advisor.com.