QQQ from Invesco tracks the NASDAQ 100 Index. SPY from SPDR (and VOO from Vanguard) tracks the S&P 500. These are two very different funds that track very different indexes. I compare them here.
In a hurry? Here are the highlights:
QQQ and SPY are two very different funds.
QQQ from Invesco tracks the NASDAQ 100 Index. SPY from SPDR tracks the S&P 500 Index.
QQQ is 100 stocks in a handful of sectors, largely concentrated in tech. SPY is 500 stocks spread across all sectors.
QQQ is already inside SPY, comprising 42% by weight. SPY is already over 1/4 tech.
QQQ is purely large cap growth stocks, which are looking extremely expensive relative to history, and fundamentals do not explain their expensiveness.
SPY is basically the same thing as VOO from Vanguard; they track the same index.
QQQ has a fee of 0.20%. SPY is cheaper at 0.09%. VOO is even cheaper at 0.03%.
QQQ has beaten SPY in recent years, but that doesn't mean it will continue to do so.
QQQ should not replace SPY as a core holding in a diversified portfolio
---
QQQ vs. SPY (and VOO) – Methodology, Similarities, Differences, Stats, & More
QQQ is an extremely popular fund from Invesco that seeks to track the NASDAQ 100 Index. These are the 100 largest companies that trade on the NASDAQ exchange, excluding Financials. This index describes itself as companies "on the forefront of innovation."
Prominent holdings include names like Apple, Microsoft, Amazon, and Google. In fact, these 4 names make up over 1/3 of QQQ. As such, it's basically a tech fund at this point due to Big Tech making up such a huge chunk of the market by weight. Specifically, QQQ is over 63% tech at the time of writing.
QQQ launched in 1999. It has over $180 billion in assets and an average daily volume of over $12 billion. It costs 0.20%. QQQ has grown even more in popularity over the past decade or so due to its market outperformance thanks to the stellar run by Big Tech. It also has a 3x leveraged cousin TQQQ, as well as a new, cheaper little brother QQQM.
Now let's talk about SPY. It's the original ETF from SPDR; it launched in 1993. It costs 0.09%. SPY is still the largest, most traded fund out there, with over $380 billion in assets. It seeks to track the famous S&P 500 Index, and it does a great job of doing so. These are the 500 largest companies in the United States. The S&P 500 is representative of U.S. large cap stocks, and is considered a barometer of the U.S. stock market as a whole.
VOO from Vanguard is basically the same thing as SPY except it's a bit cheaper (VOO costs 0.03%). It tracks the same index. Thus, a comparison of QQQ and SPY is simultaneously a comparison of QQQ and VOO.
Again, given the recent run of large cap growth stocks over the past decade, many novice investors (and sadly, experienced investors) have been flocking to QQQ, even letting it replace SPY or VOO as their core holding. Don't do that.
If you didn't already pick up on this fact, QQQ is not at all a well-diversified fund, and should not replace a broad market index like the S&P 500 as a core holding in a diversified portfolio. Again, it's mostly tech companies; sectors like Utilities, Industrials, and Consumer Staples are all but absent from this fund.
QQQ is a highly concentrated basket of 100 companies in a handful of sectors. SPY is 500 companies across all sectors. Since Big Tech companies are indeed big, the tech sector now comprises over 1/4 of the S&P 500. Because of this, investors may not realize that the companies in QQQ comprise roughly 42% of the S&P 500 by weight. That is, QQQ is already inside SPY. If you own the latter, you already own the former.
QQQ vs. SPY & VOO – Historical Performance
Let's talk about performance. Here's the history from 2000 through June, 2021: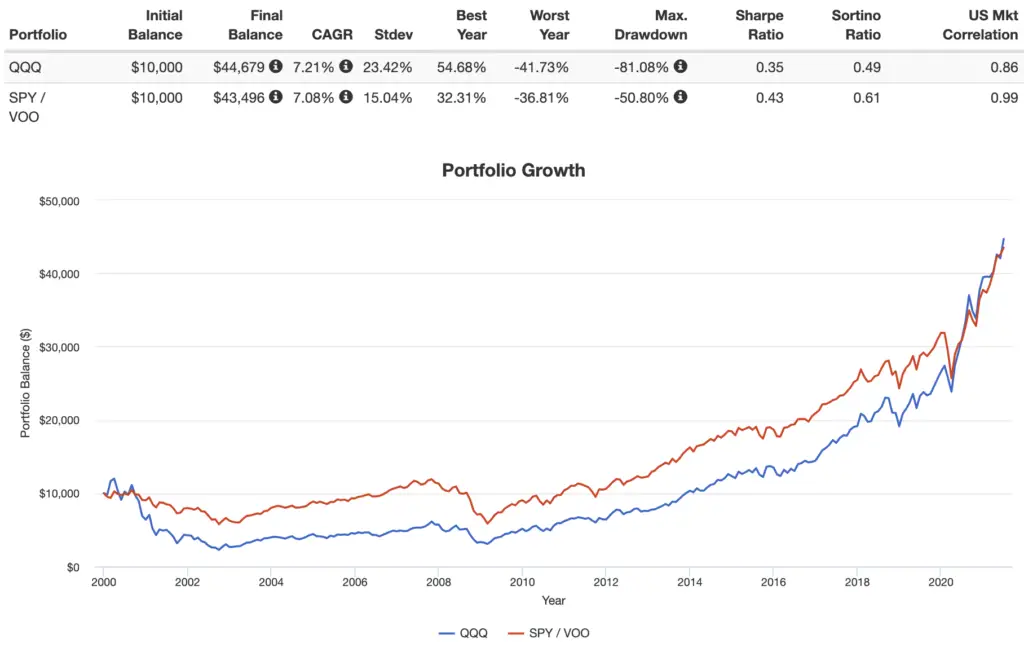 QQQ and SPY have been neck and neck at the end. Granted, QQQ had a rough start with the Dotcom crash. Still, check out its much greater volatility and drawdown. SPY still delivered a much greater risk-adjusted return.
Now let's look at the past decade, showing why people have flocked to this fund: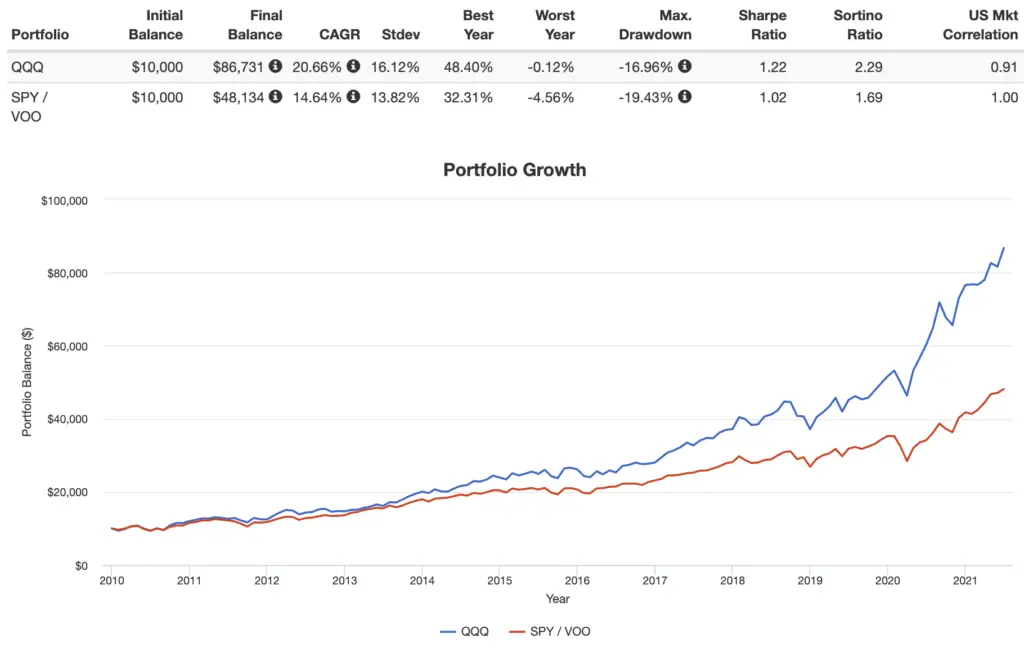 Looks great, right? Even though it still exhibited greater volatility, QQQ even had a higher risk-adjusted return than the broader SPY. But don't get too excited. Again, we wouldn't expect the next decade to look like the previous decade. Let's look at the decade 2000-2009, which was a different story: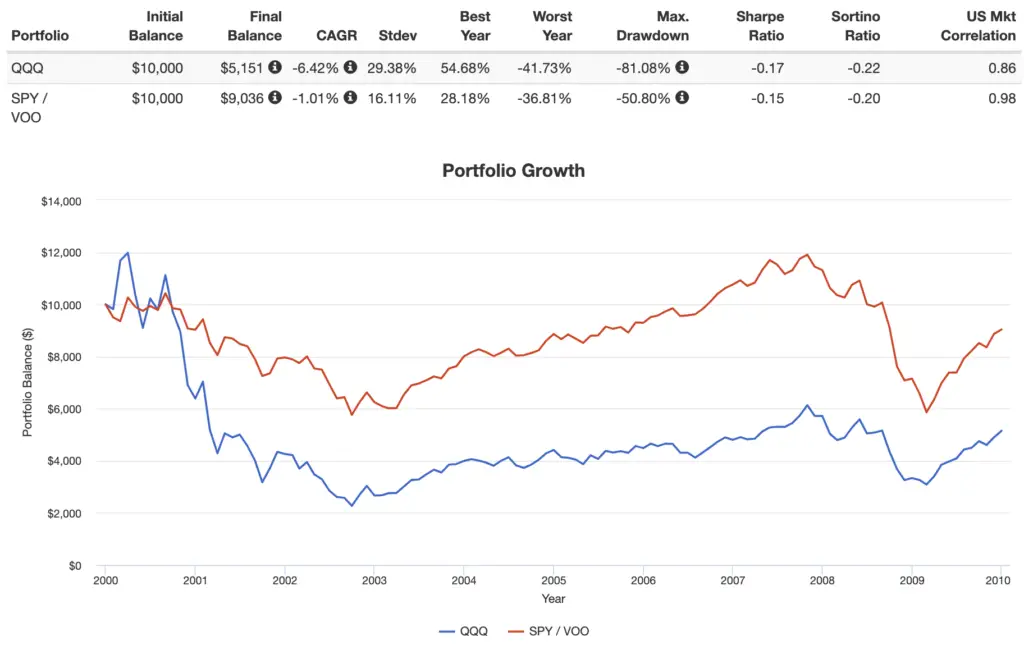 Both funds lost money because they had to endure 2 crashes, but you still would have come out ahead with SPY.
QQQ has beaten SPY historically in terms of performance. But don't succumb to recency bias and performance chasing. Past performance does not indicate future performance. More importantly, large cap growth stocks are now looking extremely expensive relative to history and are at the valuations we saw in 2000 at the height of the tech bubble, meaning they now have lower future expected returns. To make things worse, fundamentals of these companies do not explain these valuations.
Value stocks, on the other hands, are looking extremely cheap, meaning they now have greater expected returns. The valuation spread between Value and Growth is as large as it's ever been. If you buy QQQ, you won't own any Value stocks. You also won't own any small- or mid-cap stocks, which have outperformed large stocks historically.
People like to claim "tech is the future!" That may be true, but that doesn't mean market outperformance, and the economy is not the stock market. Remember that extremely high expectations for these tech firms are already priced in, and they will have to exceed those expectations in order to beat the market.
QQQ vs. SPY & VOO – Conclusion
Don't use QQQ as the core of your portfolio. Period. Doing so is purely performance chasing.
Some like to tilt (overweight) with QQQ, but remember that SPY already has a tech tilt because it's market cap weighted. QQQ is already inside SPY and VOO. If the companies in QQQ do well, they will also rise within SPY, so you already have exposure to their success.
What do you think of QQQ and SPY? Let me know in the comments.
---
Disclosure: I own VOO in my own portfolio.
Disclaimer:  While I love diving into investing-related data and playing around with backtests, I am in no way a certified expert. I have no formal financial education. I am not a financial advisor, portfolio manager, or accountant. This is not financial advice, investing advice, or tax advice. The information on this website is for informational and recreational purposes only. Investment products discussed (ETFs, mutual funds, etc.) are for illustrative purposes only. It is not a recommendation to buy, sell, or otherwise transact in any of the products mentioned. Do your own due diligence. Past performance does not guarantee future returns. Read my lengthier disclaimer here.